This shop has been compensated by Collective Bias, Inc. and its advertiser. All opinions are mine alone. #ReadySetServe #CollectiveBias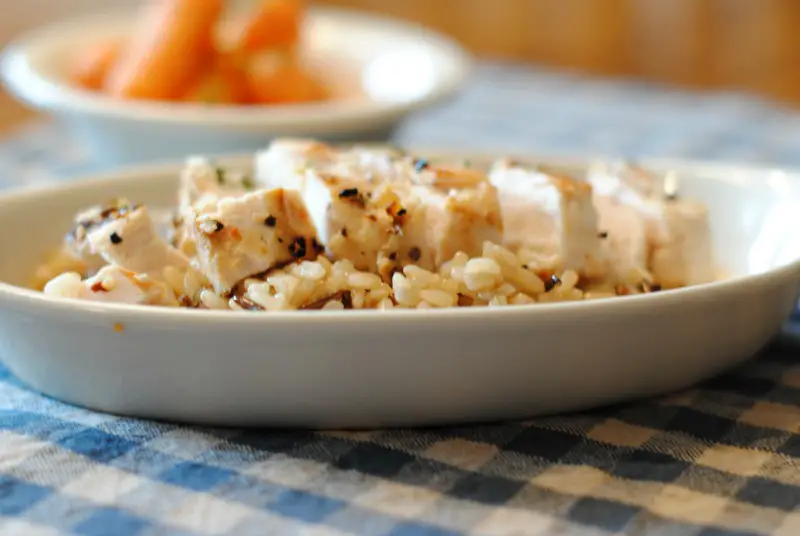 Ah yes, the Greatness Quotient ("GQ").  It's usually based on a scale of 1-10.
Where 1 is a total slacker and 10 is worthy of a plaque in the Men's Hall of Fame (there isn't one by the way).
It's a total mind game.  But so real to us.
And for us men, we strive to be somewhere in the 8-10 range every day.
We aspire to be great husbands, fathers, teachers, coaches, managers, task-jugglers, tree-house makers, and change-the-oil-in-your-car kind of guys.
But, alas,  there are days when the GQ barely reaches the mid-point.
We're tired.  We're burned out.  We manage to get through the day but we're not sure how we did it.
Become a Kitchen Hero in just Sixty Seconds
As a provider for our family, Minute® Rice has come to our rescue.
We can be a kitchen hero to our wife and kids – and we don't even have to know how to boil water. ; )
Here's how:
Make a trip to your nearest grocery store or big-box retailer and grab some Minute Rice Ready-to-Serve cups.  I found mine at Walmart the other day.  They were just $1.84 for a pack of two (2).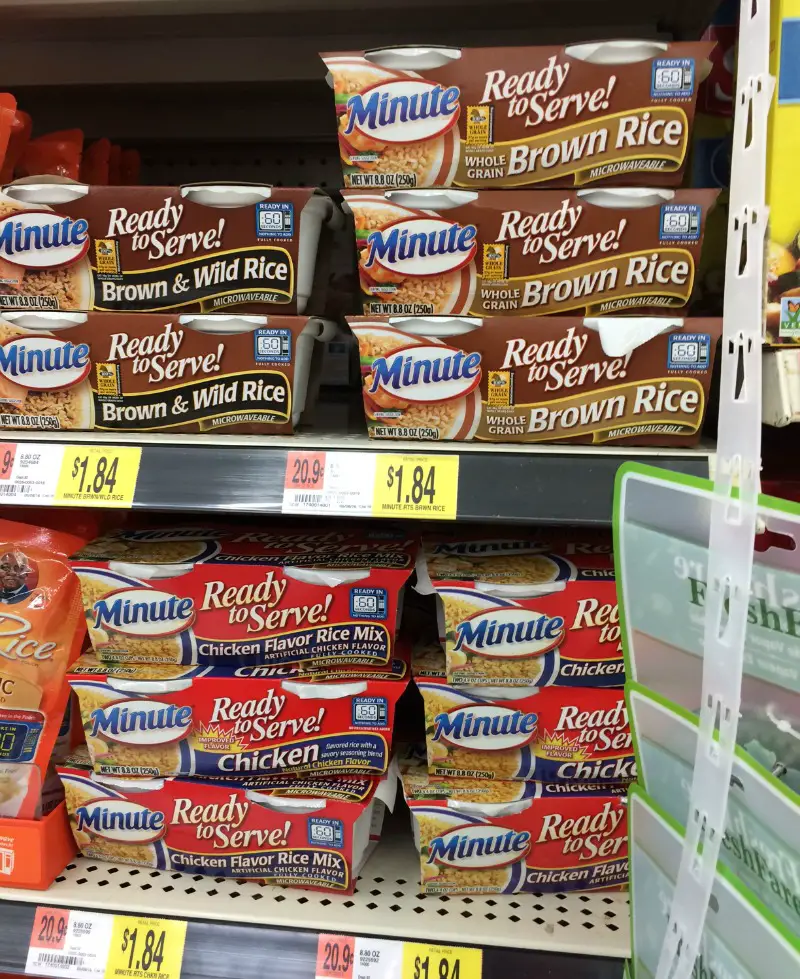 There are eleven varieties of the Minute® Ready to Serve Rice so you're sure to find one you (and your family) like.  As a bonus, several are gluten-free too.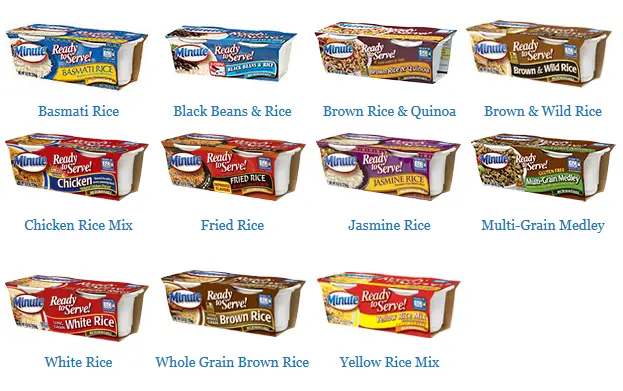 The great part about these gems is that you don't have to add anything to them.  You just pull back the film cover and microwave for sixty (60) seconds.  No — you do NOT add water.  The rice is fully-cooked and just needs heated up.
And, just so you know:  the cooking/serving cups and film are BPA-free.  So you can feel good about heating and eating right from the cup.  When you're done, just rinse out the cup and toss it into your recycle bin.
There's no need to refrigerate these.  They can be stored in your pantry (or desk drawer).  They are totally portable.  You can toss one or two in your tote bag on the way out of the house in the morning, set one out on the counter for your son or daughter to have as an after-school snack, etc.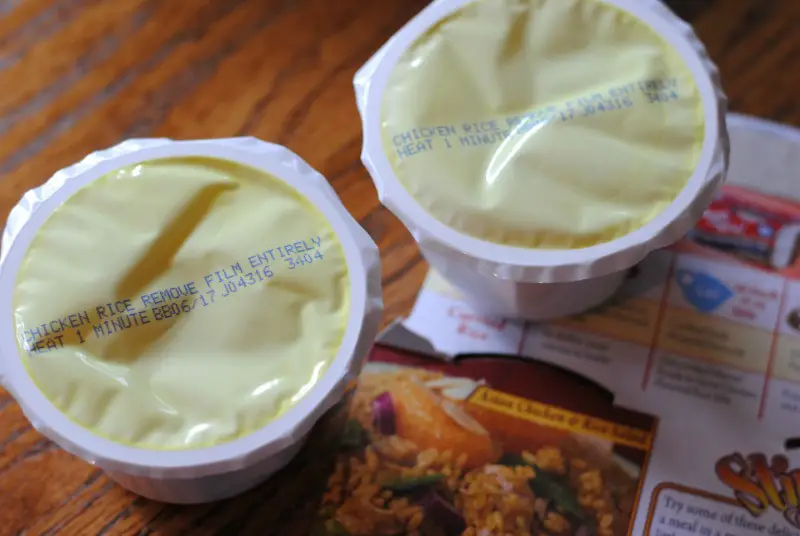 Another bonus to these single-serving sizes is PORTION CONTROL!  If you're like me, you can eat rice until the cows come home.  Not. Good.  The Minute Ready to Serve cups contain a generous serving of rice.  When it's gone, it's gone.
[[NOTE TO SELF:  These would be great to take in your lunch bag for work!]]
As a perk, the folks at Minute Rice have gone the extra mile and provide you with some TASTY options for turning your cup of rice into something super-special.  The inside of the package has all sorts of great ideas.  You can get even more tips and recipes by checking out their Instagram account, Facebook page, and Tweets.
Grilled chicken, broccoli, zucchini, green peppers, peas, hot sauce, soy sauce.  Yes please!
In a corn tortilla with some leftover taco meat and veggies
Leftover steak and sweet-corn would be great mixed in with your favorite rice flavor.
Super. Simple. Recipe.
I was really busy over the weekend and came up with this quick, tasty recipe:
The What
One grilled chicken breast/tender (skinless + boneless).
One cup of Minute Rice  Ready-to-Serve Brown and Wild Rice.
Salt and pepper (if you want)
The How
Grill up some chicken and put a couple pieces aside for this quick meal.  Use your favorite seasoning blend when you're grilling the chicken.
Peel off the film covering on the rice and pop it into the microwave.  Cook on high for 60 seconds.
While the rice is cooking, slice the chicken breast into bite-sized chunks.
Carefully remove the rice cup once the 60 seconds is up.  Be careful!  It's hot!
Spoon the rice blend into a bowl or onto a plate.
Top the rice with the chicken chunks.
Add a little bit of salt and pepper.
Enjoy a hot, hearty, meal!
If your kids are old enough to use the microwave, they can make this themselves.  Have the chicken already chopped and put in a zip-top bag in the fridge.  Kiddos can easily add the chicken to a microwave-safe container and heat it up.
Makes for a great after-school snack.
C'mon guys:  bump up your Greatness Quotient by several notches.  Become a kitchen hero with the help of Minute Rice ready-to-serve rice cups.
Save
Save
Save
Save
Save
Save
Save
Save
Save
Save
Save
Save
Save