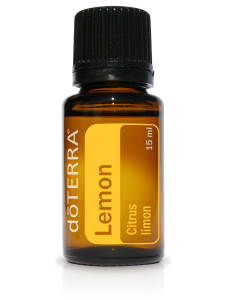 So yeah, I bit the bullet and signed on with doTERRA as a Wellness Advocate.
I've heard a LOT of great stories from people who have been healed and helped by the remarkable power of these essential oils (EO).  And I've sampled some of them too — all good stuff!
At first (a few months back) I thought the prices of doTERRA oils were 'too high'.  But I've come to learn than in this case, you really do get what you pay for.
I'm not an EO snob. Not yet anyhow.  ; )
Each day I'm learning something new and exciting about these age-old oils.  Remember the Bible stories about the birth of Jesus?  What did the wise men bring him as gifts?
Yep:  they brought him gold, frankincense, and myrrh.  The most valuable gifts in the world.
Frankincense and myrrh are two very popular essential oils.  And they smell really, really good!
And it's amazing how much power they have.  Whether you inhale the aroma, or apply the oil to your skin, or (in the case of the doTERRA lemon oil shown above*) add a drop or two to a glass (don't use plastic!) of filtered water, you can feel them going to work immediately.
And, for those of you who are still in the 'they are so expensive camp' you need to remember that with doTERRA oils, you only use a drop or two.  A 15ml bottle of oil will last quite a long time.  These are high-quality oils!  I've used other brands of oils, and I will be 100% honest with you:  back in the day I thought that oils were pretty much all the same — no matter where they came from.
But that is simply not true.  Experience is a great teacher!
As far as I know, doTERRA is the only essential oil company that offers oils that can be ingested (swallowed).  So…this was a big plus with going with them instead of other EO companies.  If an oil is safe enough to eat, then it has to be PURE.
In addition to  the pure, single oils, doTERRA offers several oil blends.  So far, my favorite is Serenity.
I get pretty stressed out — pretty easily.  A friend of mine had a bottle of Serenity here at work and suggested I try a drop on each wrist.
So I did.
And it worked.
The aroma of the Serenity blend is nice.  It's calming and relaxing.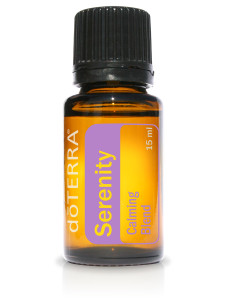 And, as I told the person that offered me the oil, "No matter whether it was 'all in my head' or the oil really worked, I DON'T CARE.  The end result was that I felt a whole lot better after just a few minutes of applying it to my wrists".
I felt more relaxed and less stressed out.
Amazing.
It's no doubt that Serenity was one of the first oil blend I purchased after I became a Wellness Advocate.
The retail price of Serenity is $40.00 per 15ml bottle.  My price is $30.00.
Saving 25% off the retail price is a big reason that I signed on.
And that's the reason a LOT of people sign on.  To get the generous 25% off.  There are no minimum monthly purchase requirements and no pressure.
It takes just $35 to sign up.  You get the benefit of the discount and really great member-only website.  You can learn SO much about oils (and the business — if that's something that interests you).  But there's no pressure to do anything.
And that's the OTHER big reason I signed on with doTERRA.  The last thing I need is for someone to be calling or emailing me asking when I'm going to place another order…of when I'm going to have a meeting.
Remember that stressed-out feeling I mentioned?  Yeah.  I don't need that.
And you don't either.
If making a career with doTERRA is what you're after, I applaud you.  There are people make some MAJOR incomes as Wellness Advocates in this business.