Cornhole is STILL the Craze
Right after video games, cornhole has become the game of choice for kids (and parents t0o).  We see tons of them every weekend at the lake.  Campers bring along their family, food, their pets, AND their cherished corn hole games.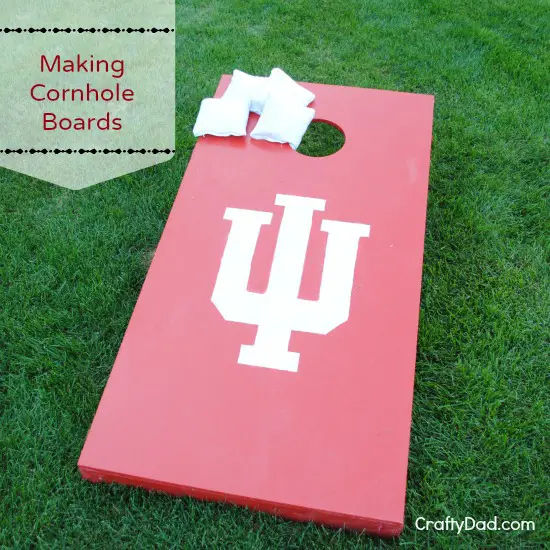 A Great FAMILY Project
Making cornhole boards is a great project for you and the kids.  Even the youngest ones can help in some way.  Just BE SAFE!  Keep power tools unplugged when not in use and out of the reach of small children at ALL times.  We want this to be a fun project — not a trip to the ER.

About a year ago, Nate and I made a set of cornhole boards.  You can see one of them in the photo below.  (And as a personal side note:  Wow, doesn't the backyard lawn look nice and green?!?!)
Okay, on with the story.

Several members of our family are IU (Indiana University) fans.  So…as home-grown Hoosiers, we opted for the old Cream and Crimson design.
Our boards turned out great.  For first-timers, this project went very well — from beginning to end.  Let me just say:  good instructions make ALL the difference.
Let's get started!