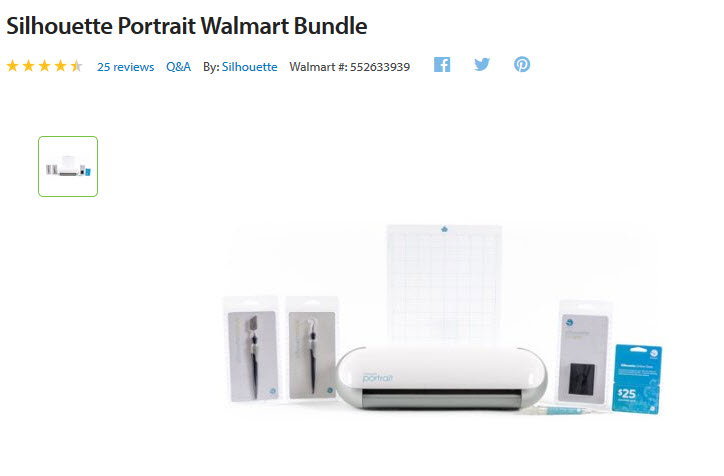 Call it a REALLY late birthday gift or an early Christmas present, either is fine by me.
My wife is setting up her craft area in a large cedar closet we have in your basement.  I'm so happy for her – she's finally going to have her OWN space.  Woot!
I guess all her moving and organizing has triggered me to get re-excited about crafting too.
-=-=-
I bit the bullet and bought a Silhouette Portrait machine from Walmart.  It should be ready to pick up at the store on Monday.
Here's the Amazon link if you're interested.
Since I suffer from the Flavor-of-the-month syndrome when it comes to things (everything), it's no surprise.
No worries.  I'm fine with it.  Been like that for a long, long time.  : )
Back in the old days, I bought one of the first Cricut paper-cutting machines.  It's a great little tool and has served me well over the years.  I bought my wife a Cricut Expression machine for Christmas a year or so ago.  Now that she'll have a designated/permanent place for it, I'm sure she'll use it more than ever.
Searching for some Cricut cartridges on the internet, I came across another brand of paper cutter.  One that doesn't use cartridges, but rather hooks up to your computer so you can search and buy images.  Most of them are $0.99.
The more I thought of it, it really makes sense to consider such a machine.
Here's why:
There are a lot of images on the Cricut cartridges that I have no interest in.  So, I'm paying for a bunch of stuff that I will probably never use.
With the Silhouette machine, you get some cool design software to use in order to print and/or cut out your shapes.
I checked out several YouTube videos and it's really pretty easy to move, re-size, add color, etc., etc.,   Then you just click and print.  Or click and cut.
You also get access to the Silhouette Design Store (online) where you can find a bazillion images to buy.  It's amazing.
Type 'wreath' in the search bar and you get a whopping 642 wreaths to choose from.  Bazinga!
If you see something you like, you can add it to your wishlist or you can add it to your cart.  Easy.
The images you purchase go directly to your 'library' in the design software program.  Slick!
They also offer subscriptions where you can pay a certain amount each month and receive much more than you pay for.  For example, a three month subscription is $11.49 per month and each month you can buy up to $25.00 worth of images.
Commit to a six-month subscription and the per month price drops to $10.99 per month.
The best deal is to sign up for a twelve-month deal and pay just $9.99 per month and get $25.00 credit each month.  And, there's a 60-day credit rollover so you can spend it later and not lost your investment.
I'm lovin' it!
So yeah, I think I've justified my big-ticket purchase for the year.
I'll certainly keep my Cricut and use it too.  But, I won't be spending money on more cartridges.
Cartridges are about $25.00 each.  Do the math and it wouldn't take long to have paid for the Portrait that I just bought.
Smart, huh?
Stay tuned for some crafty creations that I come up.
I want to make Thanksgiving cards for some family members.
And, right after that, Christmas cards.
Have a great (creative) weekend!
Save
Save
Save
Save