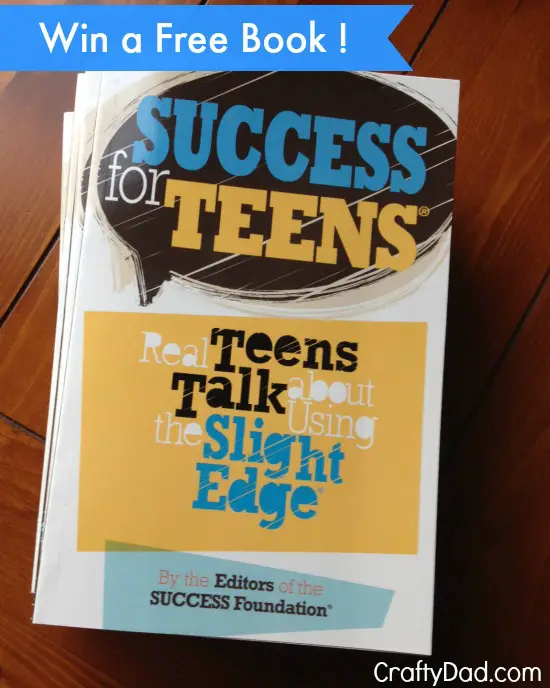 Two years ago I had the privilege of speaking to my son's sixth-grade class. It was their graduation ceremony from elementary school.
I shared lots of ideas with the kids and their parents. And when the speech was over, I presented each of them with a book called Success for Teens. The book is by the good people at the Success Foundation. You can learn about them here.
Here's a list of the chapters in the book:
One: Little Things Matter
Two: Attitude is Everything
Three: Use the Moment
Four: Everything Starts with Small Steps
Five: There's No Such Thing as Failure
Six: Habits are Powerful
Seven: You're Always Learning
Eight: Make Your Dreams Come True
All the kids + their teachers + the principal received a book. I still have some boxed up at home. They are not doing anyone any good sitting in my basement, so I'm giving away five copies*.
It's a great paperback book and makes a nice gift – whether it's for a student moving into middle-school or high school; or a young person graduating from high school – the principles covered in the book are timeless and very helpful.
Your Chance to Win One of Five Copies
To enter the random drawing for the book, all you have to do is leave a quick comment below. And, please, be sure to provide a valid email address so I can contact you if you're one of the lucky winners.
Entries need to be made by 11:59 EST Sunday, May 11th.
The winners will be drawn sometime on Monday (May 12th) and announced here on the blog on Tuesday, May 13th.
Thanks and good luck to you!
*U.S. shipping addresses only