This shop has been compensated by Collective Bias, Inc. and its advertiser. All opinions
are mine alone. #Mach3Signature #CollectiveBias

Ask most guys, and they'll tell you that shaving is no fun. It's a dreaded task (sort of like
taking out the trash or emptying the litter box). Since it's not one of my favorite tasks,
there are some things I do to make my daily shaving routine as tolerable as possible.
And, just so you know, I'm not interested in just being clean-shaven; my goal is for the
baby-butt- smooth-clean- shaven look and feel, okay?
Let's get this party started!
Like anything that's worth doing the right way, shaving has some rules.
Here they are:
● Use the right tools for the job
● Great preparation is key to your success
● Clean up your mess
Just like you would (cough, cough) never use the end of a butter knife as a screwdriver,
you would never use some piece-of- junk razor or some less-than- great shaving cream,
right?
I'm not a shaving pro per se, but I've been shaving since about the 6 th grade, and I turn
55 later this year. So yeah, I have a few years of experience at this shaving thing.
I've been a tightwad and tried the dollar store razors. Dumb. And I've told myself that all
shaving cream is made by the same company – they just put it in different aerosol cans.
Not true.
The folks at Gillette® have been making shaving products for a long, long time. They
know the business. And they create some dang nice products. I've been a fan of the
double-blade variety (with the little white strip at the top) for a long time. But I had the
itch to try some different razors lately.
I even went to the vintage shaving soap and safety razor process a few months ago. It
was fun for a while. However, I really don't have a lot of time to dilly-dally in the morning
with shaving. So, the vintage stuff had to be put in the bottom drawer.
As my wife would say, "The flavor-of- the-month" has struck again. I confess. I'm pretty
much cut from the ADD cloth. It's nothing to be super proud of, but nothing to be
ashamed of either. Happy to put that statement out to the World Wide Web. : )
My latest shaving endeavors have been of the triple-blade variety. Hey, if two is good,
then three is better, right? In this case, it is. I also tried a four (or was it FIVE) blade
version. The logic doesn't work out here. Four or five blades are just too much. There's
not enough space between each blade to allow my whiskers to enter for the big kill and
the razor just sort of slides over my face. And boys, that's not shaving!
I'm back to the three-blade razor with the lubricating strip. I thank God for the guy who
invented that little piece of comfort. It's amazing, and I cannot imagine shaving without it.
So, a big "thank you" to Mr. Lubricating Strip Dude. You have made my morning routine
a painless one.
If you're in the market for a new razor, you should try the Gillette® Mach3® Signature
Edition. Yes, Costco has them. You get the handle and 14 cartridges for $36.99. Pretty
sweet!
You're welcome. : )
The handle is a hefty little piece of hardware, and the blades and lubricating strip are perfectly positioned on the cartridge for a super-smooth shaving experience.
My How-To- Shave Lesson
Step One: Hydrate
For those of you who shave after you shower, you'll have a good chance of getting your
face and beard hydrated. Just standing in the shower won't do much for beard
preparation.
I suggest using a moisturizing face cleanser. If you have oily skin (like I do), then a basic
no-frills soap should work for you. Don't use a deodorant soap on your face – they
weren't made for that.
Don't use a pumice-based soap either. Yeah, I did that WAY back in my shaving career.
I wanted a super-clean face and beard to work with. Not a good way to wash your face –
at least long term.
Personally, I prefer to shave before I shower. Why? Because in the event of any shaving
irritation, nicks, or cuts, the shower usually takes care of those for me. Plus, the shower
ensures that all traces of shaving cream are gone when I'm finished. Sometimes I get a
little sloppy and end up with gel or cream in my ears and hair. [Yeah, I'm like that.]
Prepping my face and beard, I like to use really warm (almost hot) water and a mild
soap. I wet my face and then wash it with either my hands and/or a facecloth. The cloth
helps to perk up the whiskers and gets my skin ready for the next step. I rub the cloth
against the grain of my beard to help make the whiskers stand up. My beard grows in a
lot of different directions, so washing my face is an art form all its own. I scrub up, down,
and sideways to get my face to wake up every morning.
Step Two: Apply the Shaving Cream or Gel
With your face still wet, it's time to put on a layer of shaving cream or shaving gel. I
prefer the gel. I've used it for many years, and it gives me the baby-butt finish that I'm
looking for. It's also easy to rub the gel into my beard. Using shaving cream is just like
frosting a cake to me. The cream simply goes on the surface. Use whatever works best
for you; that's the key to a successful shave.
It's amazing how little shaving gel you need to get a good lather. Start out with a dime-
sized dollop, and see if that's enough. Use your fingertips and rub it on your face – it will
lather up quickly.
Step Three: The Blade Meets the Face
It's time to get to the real act of shaving.
To get the smoothest shave, the experts tell you that you'll need to shave in three
directions. First – shaving WITH the direction that your beard grows. And be aware: your
beard may grow in different directions depending on the part of your face we're talking
about. On my face (ears, nose, mouth area), my beard grows down (towards my jaw
line). The beard on my neck grows UPWARD (toward my jawline). Pay close attention.
And shave WITH the grain on your first pass.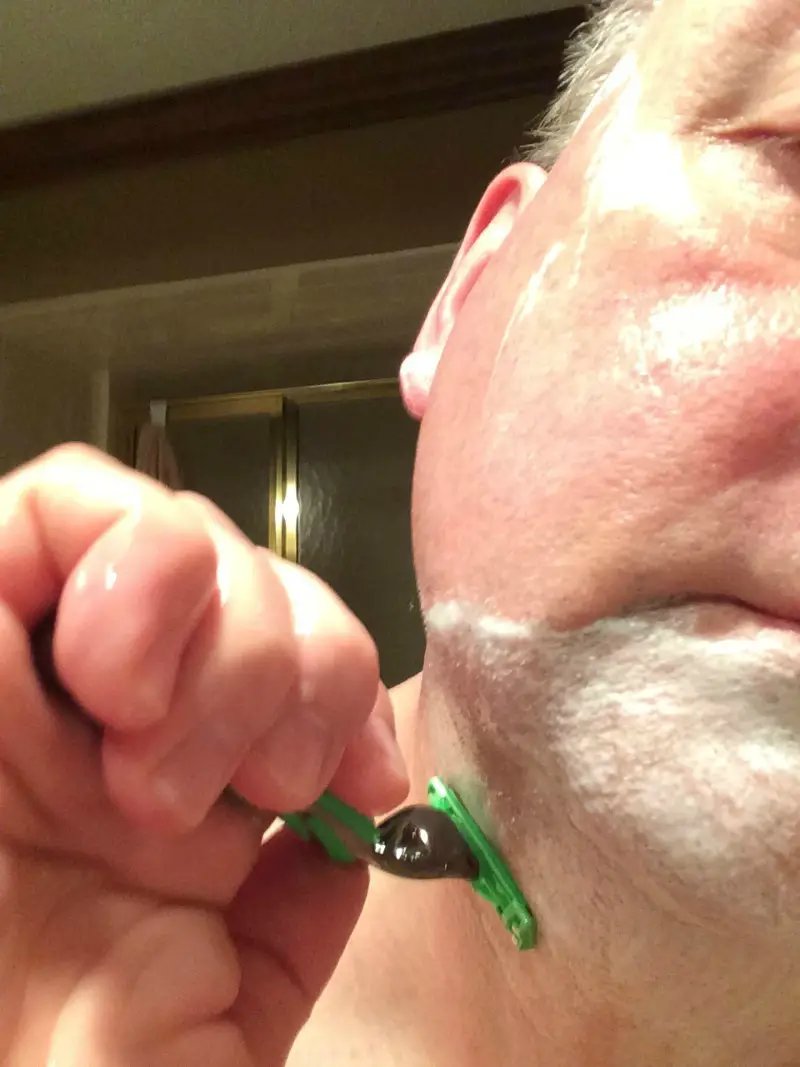 Be sure to rinse out your razor as you shave. Whiskers and shaving cream will quickly fill
up any blade and will prevent a super-close shave. I fill up my sink with hot water and
rinse my razor that way. It's worked for about 43 years, and it uses a lot less water than
letting the faucet run the whole time.
Second – shave across the direction of your beard growth ('sideways'). Now, I have to
be really honest here; I skip this step – at least for my face. My chin and neck areas
need to be shaved in all sorts of directions if I'm going to get a close shave. It's just how
my beard is. Your mileage may vary. And remember to rinse the razor!
Third – here's where the super-smoothness happens. You shave against the grain. You
may need to apply more gel or cream before you start the final phase. Shaving without
some sort of lubrication is asking for razor burn. And that's no fun.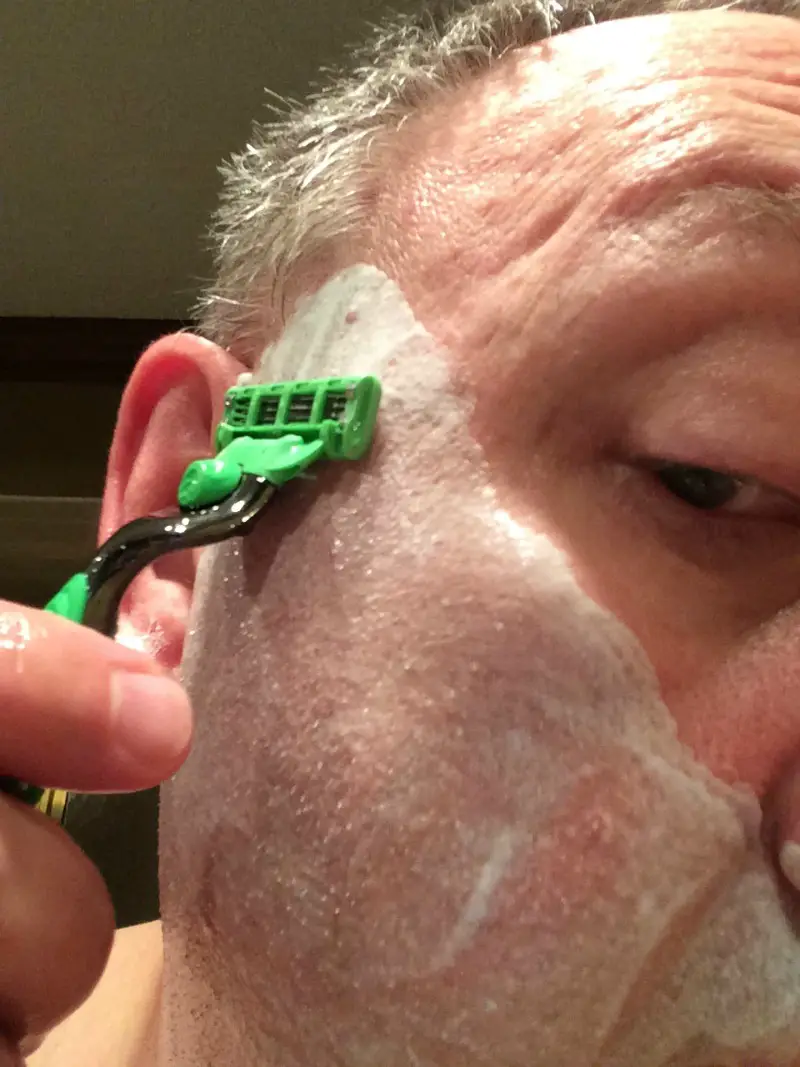 And speaking of the typical redness you might be familiar with, ouch! The Gillette®
Mach3® Signature Edition offers a great shave that's up to 100% redness-free. (It's
possible with Mach3®.) The lubricating strip is much improved over other razors I've
used.
As I shave, I use my fingertips to pull my skin taut so that the blades have a chance to
get the whiskers. You may need to do the same – especially if your beard grows in
multiple directions.
After you've performed the three directional shave, FEEL YOUR FACE. Take your
fingertips and see if your face and neck are smooth. If not, then apply a little more gel or
cream and pay close attention to those "trouble spots." But please, do NOT apply a lot of
pressure with the razor. Just a firm touch is really all you should need – especially if
you're using your other hand to smooth out your skin so the razor has a flat place to do
its work.
Step Four: Time to Clean Up
When you're all done shaving, it's time to clean up and pack up your gear. Let the water
out of your sink, and rinse your blades as the water is going down the drain.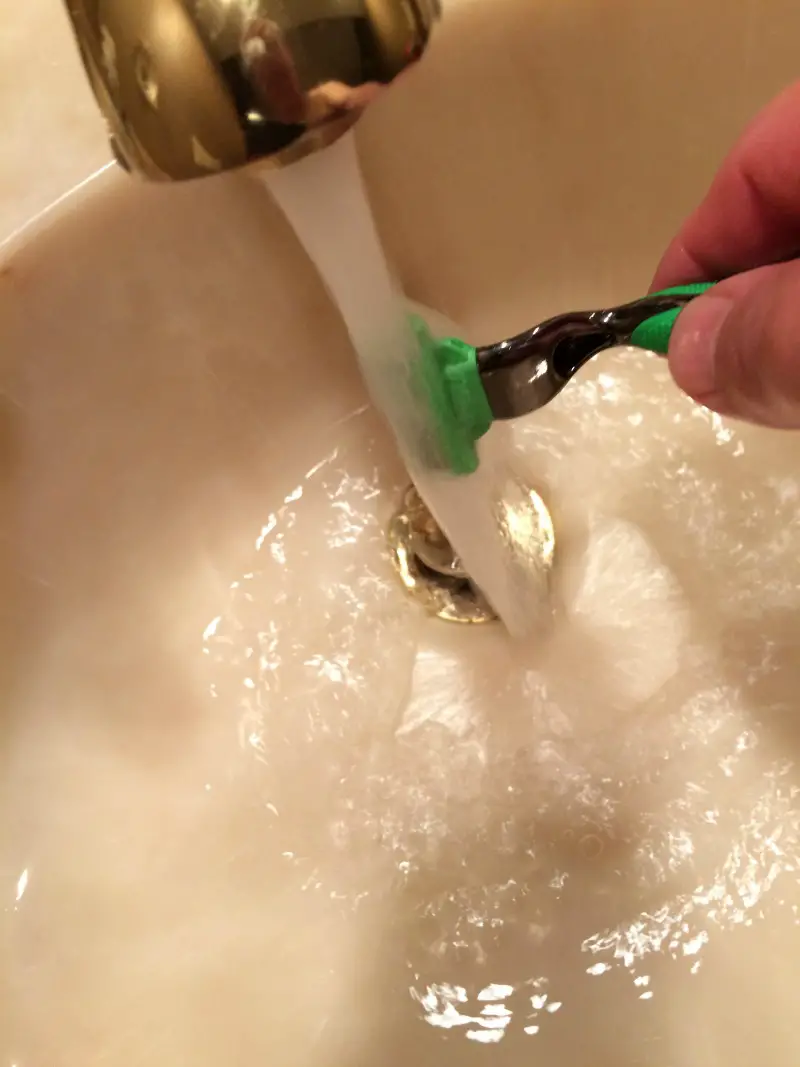 Be sure to rinse all of the gunk out of the blades. Use hot water and turn the razor
cartridge over and over to be sure its nice and clean. Shake out the water. You never
want to use a towel or paper to dry it. That will dull the blades in a big hurry. Just shake
the excess water out, and place the razor (handle down) in a mug so air can circulate
around it.
Rinse off the top of your gel or cream can. Dry it off, and put it back in your cabinet or
drawer. I do NOT put the cap back on. I toss the cap in the recycle bin on Day One and
allow my can to air-dry in my shaving drawer.
Now it's time to wipe down the sink area and jump in the shower.
If you choose to shave AFTER you've showered, now is the time to rinse off your face.
First in warm water and then in cold. The cold water will help to close the pores on your
face and make it feel nice. Be sure to get all the gel or cream off your face, neck, ears,
and hair. (See why I choose to shave BEFORE I shower?)
If you use aftershave, you can apply it now. If aftershave isn't your thing, buy a bottle of
witch hazel the next time you're at the store. It's in the shaving section (and oftentimes in
the face lotion section too). This is good stuff. I use about half a teaspoon of it, rub it in
my hands, and then lightly rub it all over my face and neck. It doesn't burn, but it gives
your skin a nice finishing touch. Try it!
The Gillette® Mach3® Signature Edition Razor is top-notch. The handle is a perfect
weight, the blades are sharp and spaced perfectly for a clean shave, and the lubricating
strip does its job. If you're in the market for a new razor, I highly recommend you try it!