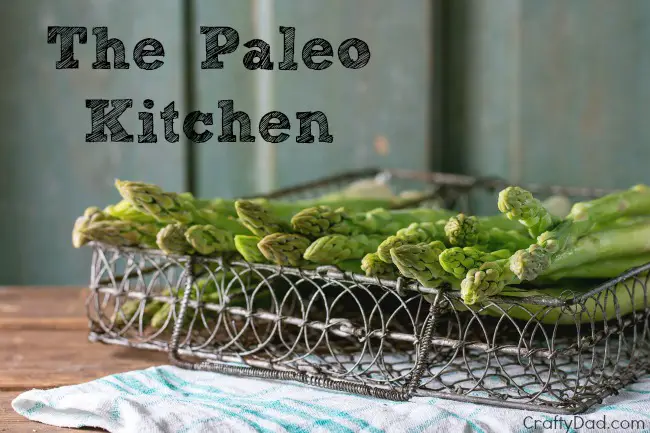 It's 2016 and I'm rolling into the new year with all sorts of Paleo and super-low-carb foods to stock my kitchen.
In addition to food, you'll need some kitchen tools to prep and cook all your great-tasting meals.
Here are some must-have items and other tips to get you kitchen in paleo-mode.
Don't panic.  There's nothing crazy about the list.  Just some basic items that you'll every day — multiple times a day.
Here we go!
Knives – You don't need to spend a fortune, but a good set of knives will make food prep a lot less stressful. A good chef knife or Santoku knife is perfect for chopping vegetables and chicken breasts. A paring knife is what I use to clean radishes and strawberries.
Cutting Board(s) – I have several cutting boards in the kitchen. Some are wooden, some are made from a composite plastic material. I use the wooden ones for fruits and vegetables. The composite ones are only used for meat.  Clean-up is easy:  I just use hot soapy water — and I make sure they are completely dry before putting them away.  If I was looking for new cutting boards, I'd probably buy this set on Amazon.
Large mixing bowl – Using an over-sized bowl is perfect for making salads. The extra space in my stainless steel bowl gives me plenty of room for mixing and tossing — and helps gets that wonderful oil + vinegar dressing on every ingredient.  I use one very similar to this one.  I think I bought mine locally and only paid a few dollars for it.
Salad dressing shaker/storage container – sSpeaking of salad dressing, it's a good idea to have a container to shake and store your favorite dressing. Click here for my oil + vinegar salad dressing recipe.
Non-stick frying pan — (I love the Denmark brand ceramic coated one my youngest son bought me for Christmas (in 2014). It's perfect for making scrambled eggs and sauteing veggies. Cleaning up is really easy. I wipe it out with a piece of paper towel and then it's ready for hot soapy water, a quick rinse and dry, and then it goes back into my cupboard.
Microwave Egg Poacher — Fried and scrambled eggs are awesome, don't get me wrong, but every now and again I love to make poached eggs.  This gadget is one of my all-time favorites.  Here's a link to a post I wrote awhile back that will help you make some awesome poached eggs.
Slow cooker – not something you absolutely have to have, but I'd be willing to bet that you already have one! So use it! If you don't have one, put it on your 2016 list. It's the perfect way to cook a big batch of soup or a pork roast.  If you're looking for a new slow-cooker, I'd highly recommend you get one of these.  Not only is it a slow-cooker, it's a fool-proof pressure cooker, rice cooker and does a few other tricks as well.  I love the one I have!
Quality set of pots and pans – I like to use cookware that has a heavy, solid bottom. We've been using our "Bistro" Wolfgang Puck set for several years. They are stainless steel and have been put through their paces every day for the past several years. And they still look like new.  We got an entire set on HSN or QVC — can't remember.
Spiral Vegetable Slicer — I got one of these gems back in 2010 and it's still going strong.  It makes perfect zucchini noodles.  Clean-up is a little cumbersome, but it's worth it.  I promise.  It only takes about 30 seconds to turn a zucchini into a plateful of  noodles.  Steam your noodles in the microwave and then top it with other steamed veggies and some marinara sauce.  We like it better than real pasta noodles.
Okay.  That's it for this post.  I'll have more articles on cool tools in a few days.  Stay tuned!
What are your must-have tools in the kitchen?  Share your list in the comments.