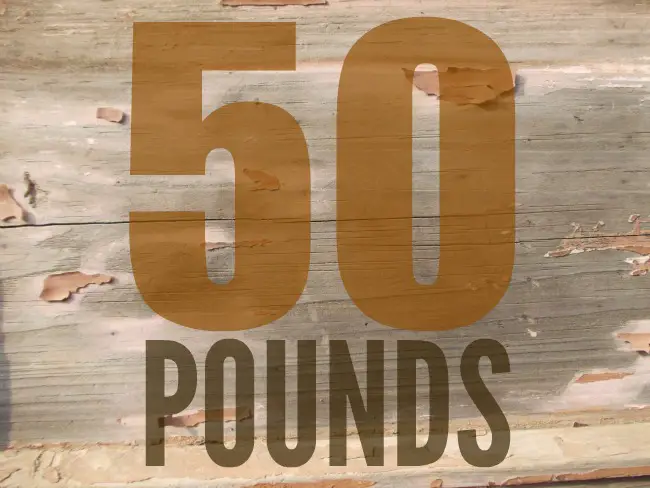 My oldest son and I have entered into a weight loss challenge. We're going to see who can lose the most weight between now and June 1st.
I've become a sluggish blob over the past several months. Sadly, I've just eaten whatever I want in whatever quantity I want. And my exercise routine has been ZERO.  It ain't pretty.
Add to that a couple food-crazed holidays like Thanksgiving and Christmas and I've been totally out of control. Even as a member of the Weight Watchers at Work program, I've continued to gain weight instead of lose it. Sad. Sad. Sad.
Let's do the math.
Losing fifty pounds over a twenty-four week period means I'll need to lose about two pounds each week.
That's do-able. Weight Watchers has been telling us it's safe to lose 1-2 pounds a week. I think losing a couple pounds each week will make it easier to KEEP it off too.
I'm especially looking forward to my clothes fitting more comfortably. In the old days, an extra-large shirt fit quite comfortably. There was even some extra room. Now? Not so much. Some of the dress shirts that my wife and I picked out a few weeks ago are button-busting tight in the belly area. Gross.
While the Weight Watchers program works, I know that if I allow myself certain foods, I will be in trouble. Even in small quantities.
Carbohydrate-laden foods seem to make me fat in a big hurry. I have to stay away from them if I'm going to succeed. And, I have to stay away from my favorite Chinese restaurant too. Even as a 'cheat meal' that place has to stay off my radar for the next few months.
Can I do it?
God help me, yes I can.
In the past, I've lost a good chunk (pun intended) of weight following the Paleo food plan. I love the food choices and with some exercise, I truly believe that I'll drop the weight.
As long as I plan ahead and ALWAYS have no-carb or ultra-low-carb food choices close by, I should be able to do this.
The toughest part will be the exercise (and staying away from the white corn chips!). I'm not going to join a gym or start attending some CrossFit "box". I'm just going to walk (a lot) and (hopefully) be able to start running again. That REALLY helps me take the weight off. It worked before. It will work again.
Follow along on Instagram
I'll be sharing photos of my meals on Instagram. If you're not already following along, I cordially invite you to do so. You can find me here. Be prepared: you'll see lots and lots of salads. I'll appreciate your support and comments along the way.
What's on your medium- to long-term to-do list?  Losing weight? De-cluttering the house? Finding a new job? Making a quilt? Share your thoughts in the comments.