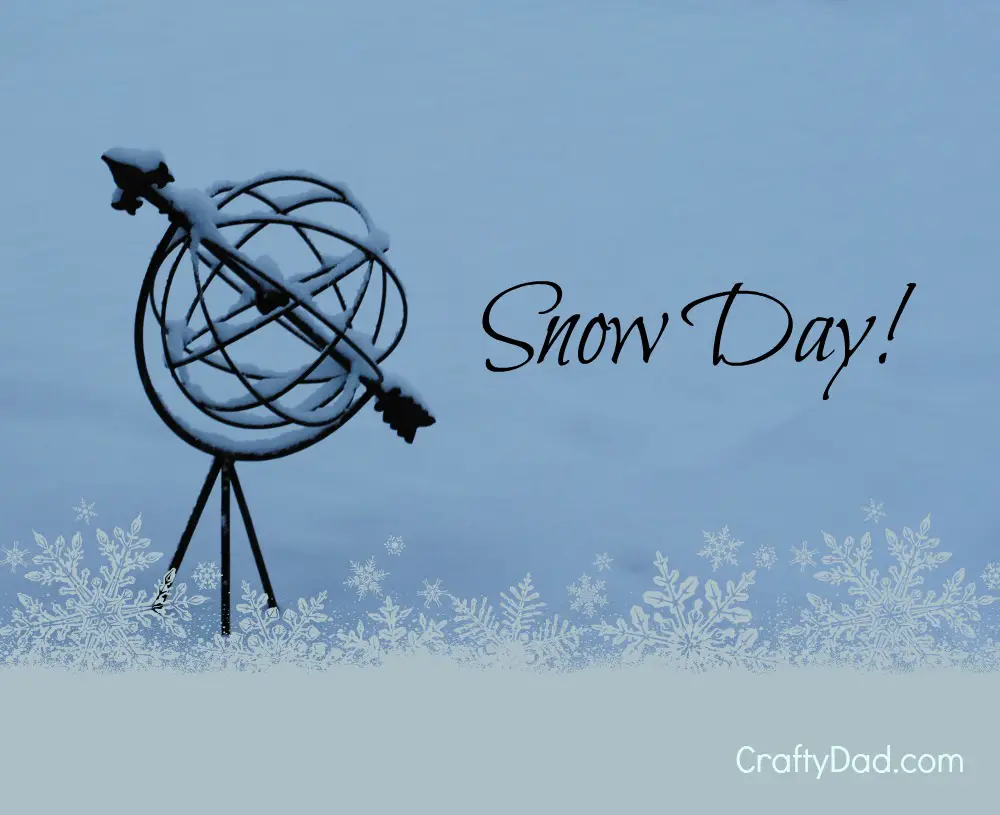 The weatherman called for a major snowstorm.
There were watches.
Then warnings.
And, in Chicago (just a 100 miles to the west of us) they even called for a BLIZZARD warning.
That's some serious snow.
Around these parts, they were predicting between 11 and 15 inches of snow.
I'm pretty sure we got all that.
And some more.
In the spirit of home-boundness, we decided to make the best of it.
College Kid (my oldest son) gave me some inspiration the other day for a simple, home-based activity.
Puzzles.
You know, old-fashioned jigsaw puzzles.
So, on Saturday (our day of running errands) we stopped by Walmart and perused the puzzle aisle.
It seems that we're not the only ones that are in the mood for putting together puzzles because the shelf was in disarray.
I know:  most shelves at Walmart are in disarray.
🙂
I digress.
Much to my pleasant surprise, my wife got in on all the excited of puzzle-fun and even went so far as to make a trip to the furniture section of the big box store; looking for a table that we could use for our old-fashioned family fun.
As we were looking, I had a light-bulb-moment and said, "Hey, why don't we just clear off the dining room table and make that our puzzle place?  We never use the dining room, so it makes sense to use the big table and we won't have to buy another one."
Silence.
And then my wife finally said, "Yeah.  We could do that."
Smiles broke out.  And I started to breathe again.
Here's a quick pictorial essay on how I quickly transformed the dining room table into "puzzle central".
Boom! It only took me a few seconds to remove the vase and table runner.  They never saw it coming.
And, voila!  A perfectly smooth, large, out-of-the-way for putting together puzzles.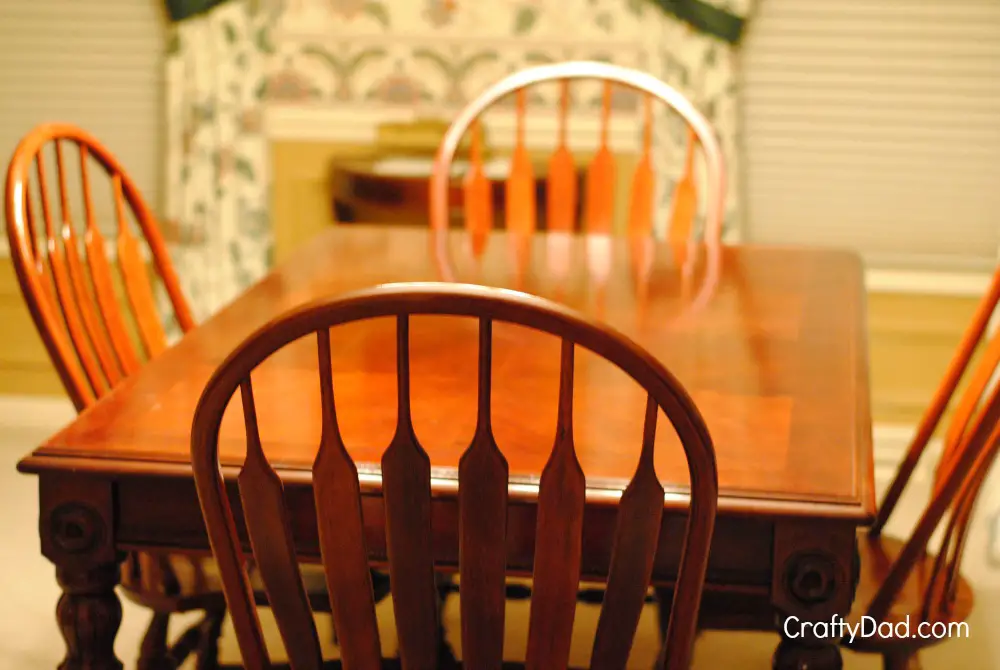 I opted for a 1,000 piece puzzle.  I've NEVER attempted such a large number of pieces.  But…at 53…I decided to 'go big or go home'.  : )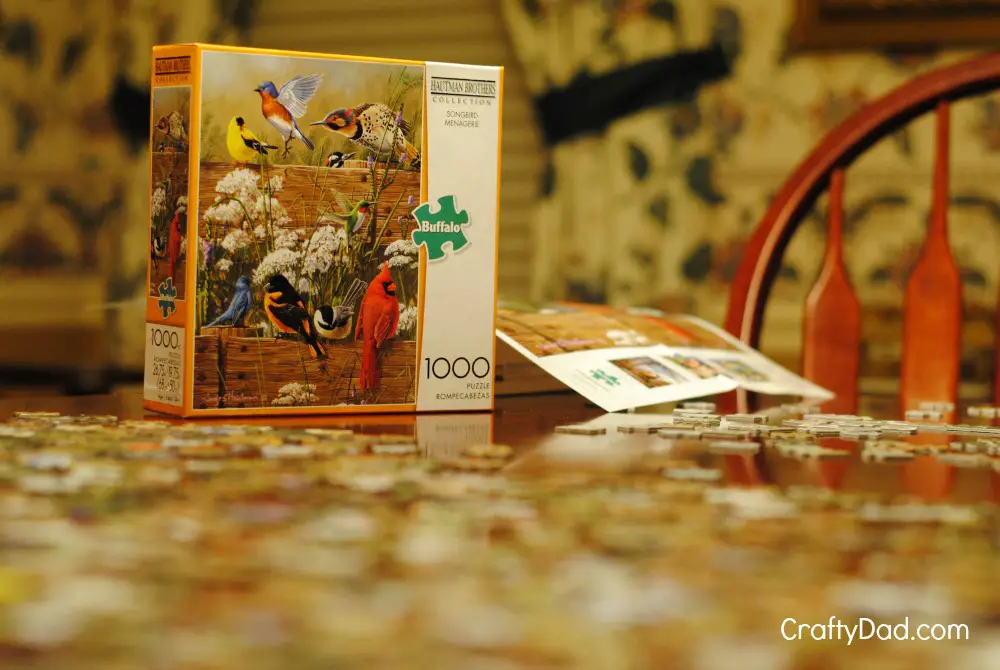 Holy cow!  Do you know how much space you need for a thousand piece puzzle?  Thank goodness the dining room table worked out.  And, do you know how much time it takes just to put the pieces (all face up) on the table?
And sort our the 'edge' pieces?
I was worn out before I even STARTED to interlock pieces!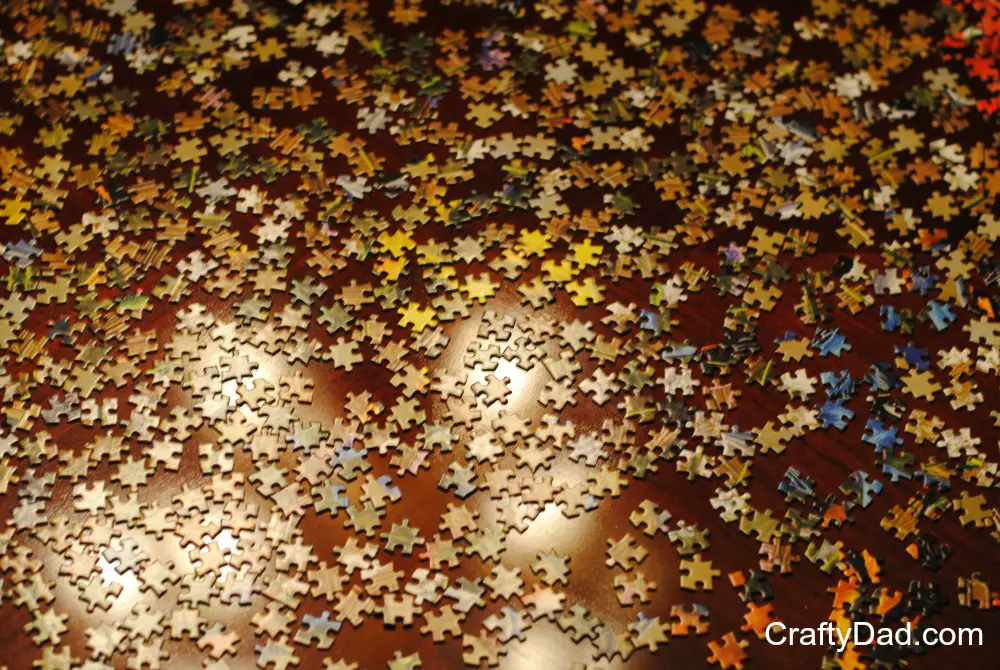 The weather man was right this time.  We got snow.
A ton of snow.
The poor branches of the pine tree were so weighed down by all of it.
They almost touched the ground.
This is NOT a black and white photo.  But with all the white and snow blowing from every direction, my DSLR caught this image.
I love it.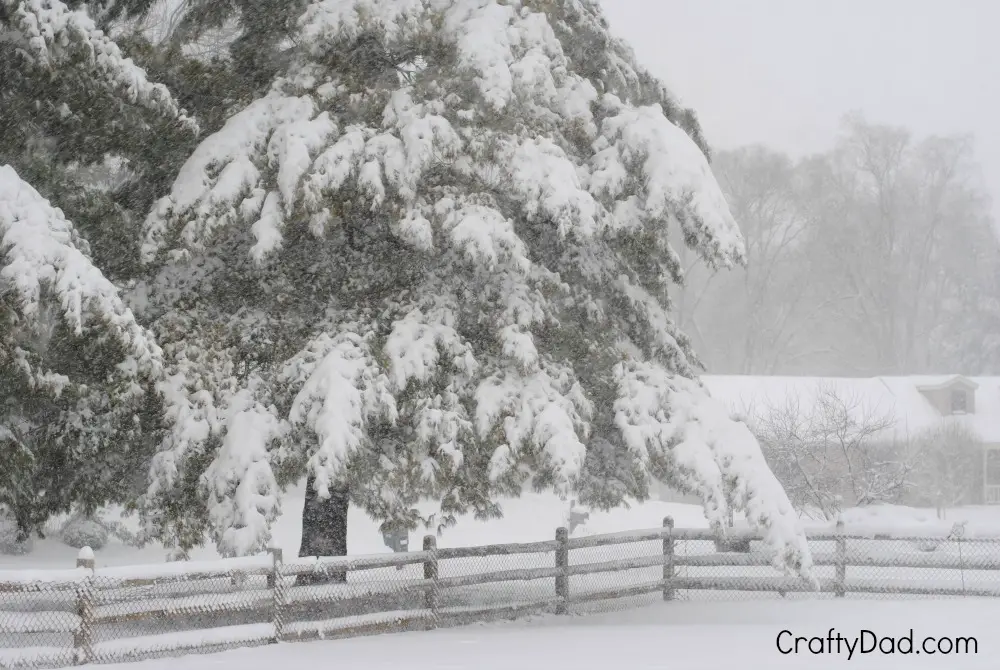 Here's a little more color.
Can you see the snow pouring down?  Look to the right of the tree in the foreground.  It almost looks like it's raining.
That's how fast it was coming down.
Crazy.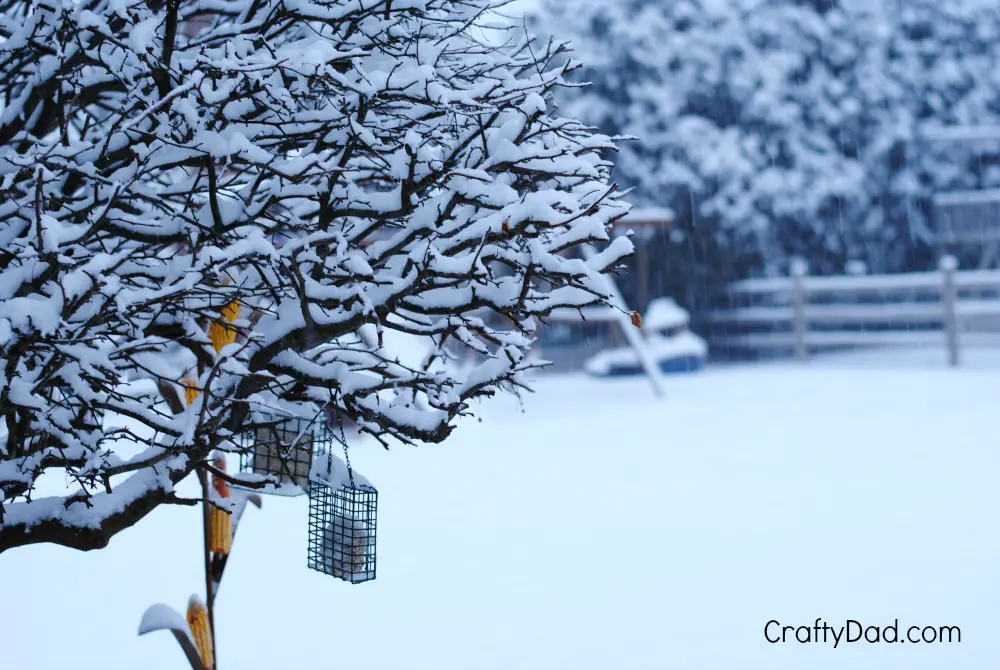 School has already been called off.
Tall Child is pretty happy.
Now…if they'd just call off work for the missus and me.
We'd be pretty happy too.
: )