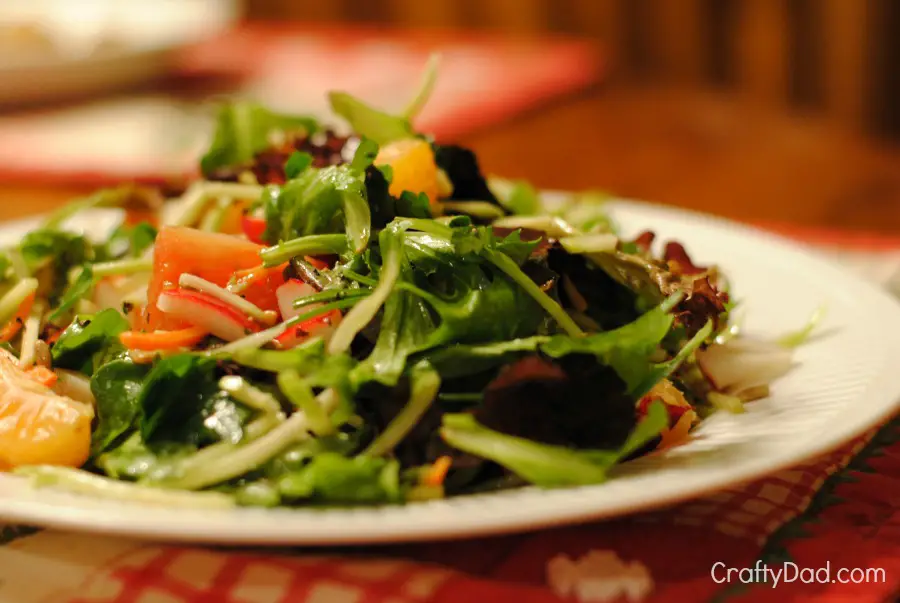 This is what I call "Deliciousness on a Dinner Plate".
This organic greens + broccoli slaw salad is my current favorite.
With radishes as my official veggie-of-the month , I've added lots of other flavors to balance things out.
Like clementines.
Yum!
Clementines are in the stores this time of the year and they make a PERFECT salad ingredient.  If you haven't thought of them as a salad ingredient, I invite you to try them.
They also make great on-the-go snacks and pack easily in your lunch bag.
Here are the crunchy, fresh details.
THE WHAT:
1 cup organic greens (I used the Spring Mix from Aldi)
1/2 cup broccoli slaw (found mine at Walmart)
1 Roma tomato, roughly chopped
1/4 a green pepper, roughly chopped
2 clementines, peeled and sectioned
4 radishes, thinly sliced
1 tablespoon sunflower kernels
about 4 tablespoons of my oil +  vinegar dressing
a big pinch of coarsely ground black pepper
THE HOW:
Toss all ingredients in a large mixing bowl to be sure the salad dressing is completely mixed in with the veggies.
Plate up and savor the flavors.
You gotta love this one.
YOUR TURN:  What's your favorite salad?  Leave a comment below.  Bon appetit!