Welcome to Week No. 1 of Make It Merry Monday
You're welcome to craft-along as we spend each Monday for the next five Mondays making a kid-friendly craft.  Each project will be Holiday-themed, but use your imagination — you can apply these for pretty much ANY season or occasion.
Today we're going to transform a metal, half-pint paint can into something special.
These would be perfect for stocking stuffers!  You can tuck in a $20 bill and make Christmas a very joyous day for someone!
Once the Holidays are over, these decorated cans can be used for all sorts of things:
a pencil cup
spare change storage
a place to keep paper clips or small binder clips
a great storage container for ear-buds or your iPhone charger (do you misplace yours as much as I do?)
you can put cotton swabs or cotton balls in them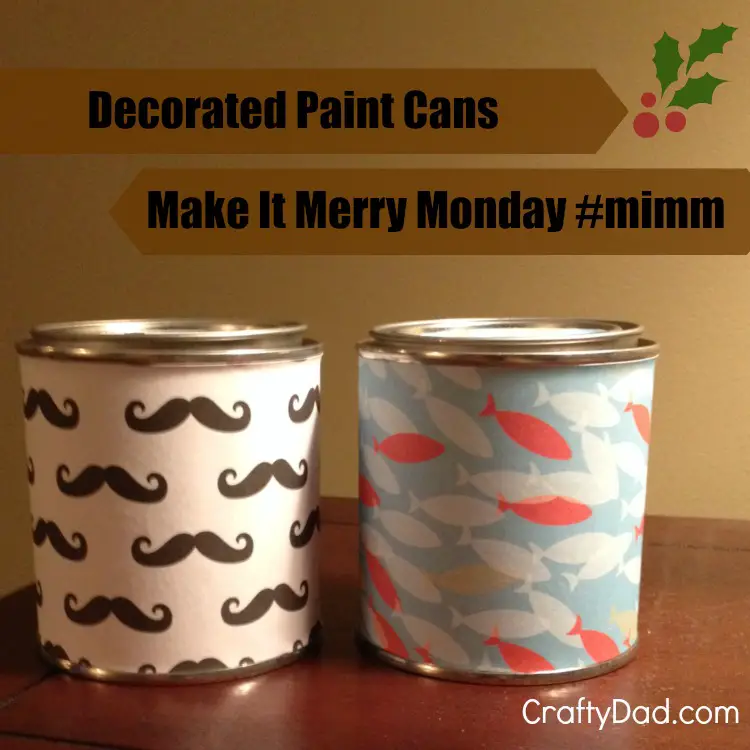 Let's Make Some Decorated Paint Cans!
I'll start this project by saying that you should be able to find all the materials you'll need at your local arts and crafts store.  If you have trouble finding the paint cans (or don't want to buy a case of them like I did — and spent over $70!) then send me an email and I'll send you a PayPal invoice for a kit.  I have several cans left and I'm offering 'kits' if you're interested.
The " project kit" includes FIVE half-pint cans and (pre-drilled) lids; FIVE wooden knobs for the top, and FIVE screws to attach the knob to the paint can's lid.  I'll send you enough materials to make FIVE cans for $18.00 [Priority Mail shipping included )to U.S. destinations only)].  (Doing the math, that's just $3.60 for each can!)  Remember:  if you choose to buy a project kit, I'll even drill the hole in the lid for you.  This will save you time and perhaps some aggravation.  (You're welcome.)  : )
The What
1 half-pint paint can (and lid)
1 12×12 inch piece of scrapbook paper (your choice of color or pattern)
1 one-inch wooden doll head (for the knob on top of the paint can lid)
small foam paint brush
a paper cutter
A circle-cutting machine (Cricut, or an EK Tools Circle Punch, 2-Inch)
Mod Podge (Gloss Finish)
Craft paint (for the wooden knob)
Portable drill or metal punch
#10 x 3/4 inch Phillips head wood screw
small Phillips screw driver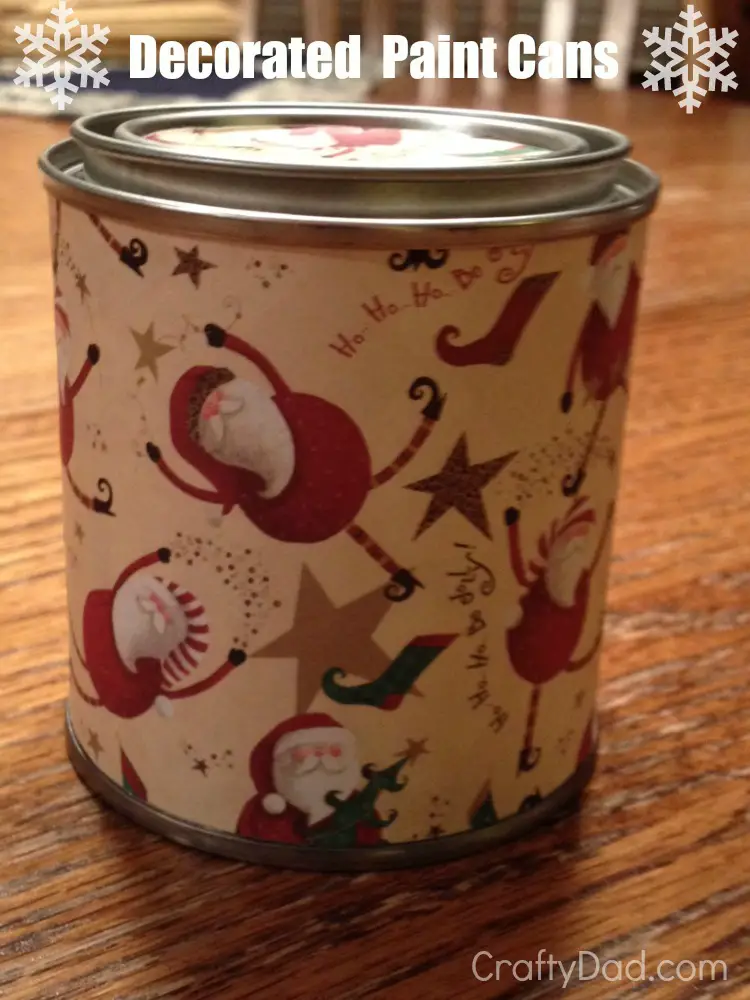 The How (I know — there are lots of steps, but this goes really fast.  And you'll be a pro in just a few minutes!)
If you purchased your half-pint cans from U-Line like I did, then you'll need to cut a piece of scrapbook paper measuring 2-3/4 inches x 9 inches.  Use a scrap piece of paper before you cut into your fancy paper.  (You know the rule:  "measure twice, cut once".)
If the 2-3/4 x 9 inch size works for you, then you'll automatically have a 2-3/4 x 3 inch piece of paper that you can use for the lid of the paint can.  Sweet, huh?
I used my Cricut to cut a 2 inch circle.  That size fits perfectly in the lid.  You could also use a 2-inch paper punch.  Or…carefully draw a circle and cut it out with scissors.  Take your time!
Once you have your paper cut, then it's time to get open the ModPodge.
Coat the outside of the paint can with a thin coat of ModPodge.  Be sure to get all the way to the inside lip of the can.
Carefully place the 2-3/4 x 9 inch piece of scrapbook paper around the paint can.  You may have a tiny bit of paper that overlaps.  And that's okay!
Using your thumbs, quickly maneuver the paper into place so that it fits perfectly around the can.  Lightly rub out any air bubbles with a piece of paper towel or soft cloth.
You may need to add a small dab of ModPodge where the two edges of the paper overlap.  Gently smooth it out as much as you can.

HINT:  There's a seam in the paint can.  Make sure your paper overlaps the seam by at least a couple of inches.  In other words, DO NOT allow the edges of your paper to overlap on top of the paint can's seam.

Next, apply a thin coat of ModPodge to the top of the lid.
Place your circle of scrapbook paper on the top and gently rub out any wrinkles.  You may also need to use a paper towel to wipe up any excess ModPodge that oozes out of the edge of your circle.  Work quickly, but be gentle so you don't tear the paper.
Allow the can — and the lid — to completely dry.
While the can is drying you can pain the wooden doll head that you'll use for the handle/knob.
Choose a complementary color that looks good with your can's designer paper.
You'll probably need to give the knob about three or four coats of paint.  Be sure to allow the paint to completely dry before applying the next coat.
Once the knob has dried, you can attach it to the lid.
Take your lid and place it on a scrap piece of wood (I used a wooden cutting board).
Find the center of the lid (just eyeball it) and make a dot with a black Sharpie.
Use either a drill or metal punch and create a hole in the center of the lid.  (If you don't have access to a drill or punch (or you're uncomfortable using them), you may want to consider buying the project kit that I'm offering.  The lid comes pre-drilled.  You'll receive the can and lid.  And you also get the doll head (knob/handle) and the wood screw.
Using a 3/4 inch wood screw, insert the screw up from the bottom of the can lid and into the hole of the doll head (knob/handle).  Carefully tighten the screw so that it's very snug against the top of the lid.  Be careful not to over-tighten.
You're done!  Your decorated paint cans are an awesome work of art!
Step back and admire your work.  But not for long!  There are tons of scrapbook paper choices out there.  You'll want to make one of these for all the kids on your Holiday List!
Not only can you make these for the Holidays, but you could make them for party favor containers — birthdays, bridal and baby showers, Valentine party cans, Easter treats, Halloween favors, etc.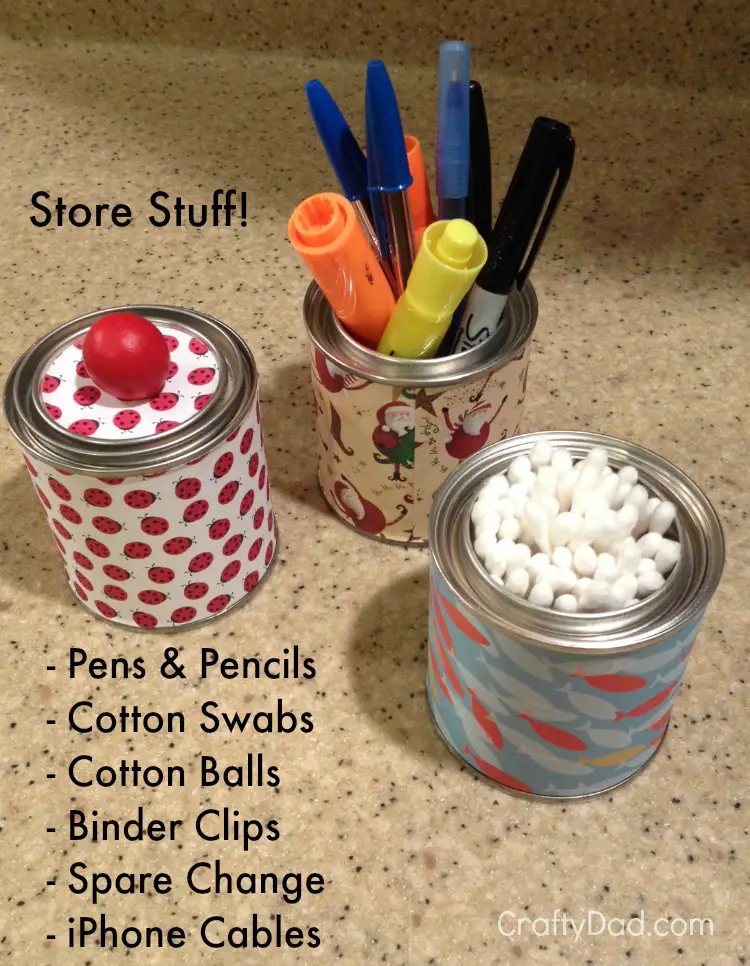 Yes!  Make a bunch of these and give them away this Holiday season.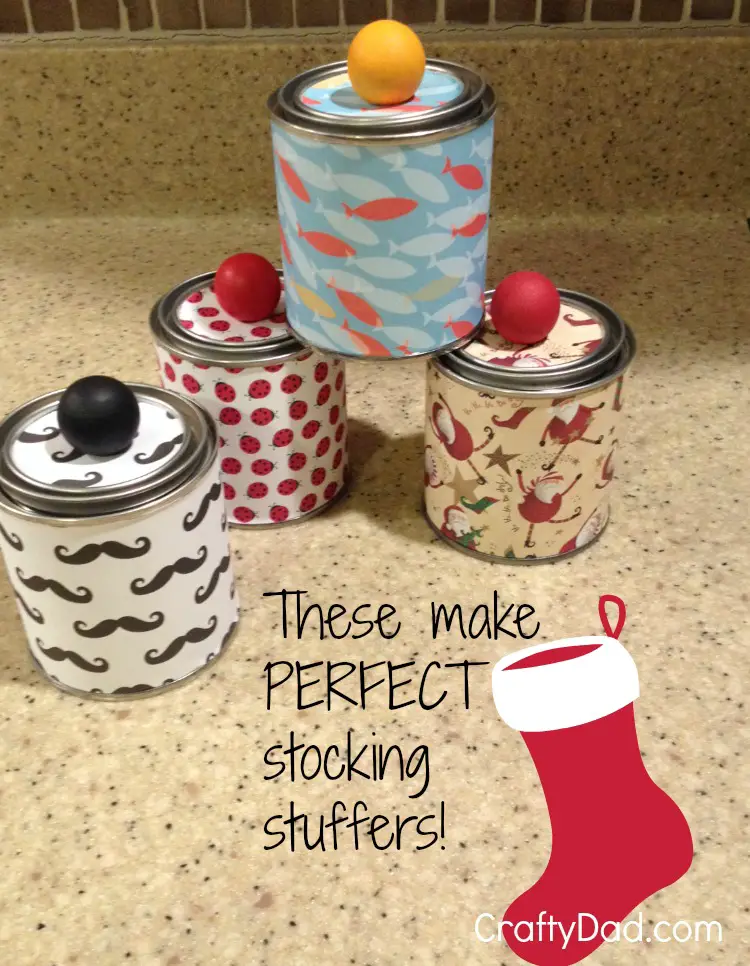 [Disclaimer:  This post contains affiliate links.  If you click on an affiliate link and purchase a product, I receive a commission.]