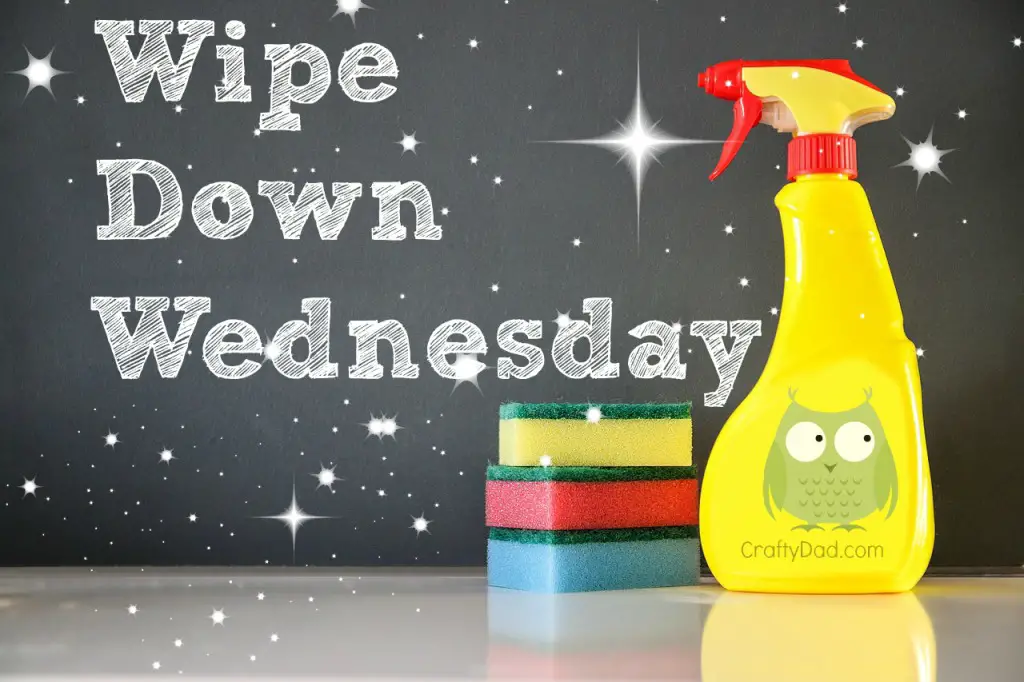 Yes, folks, it's the middle of the week again.
And you know what that means:  Wipe Down Wednesday.
A quick de-cluttering and spiffing up today will save you time (and stress) during the weekend.  (At least that's how it works at our house.)
Let's get to it!
Our main focus this week (as always) is the KITCHEN.  If your counters are clear and clean and your sink is empty and shining, you're halfway there.
Seriously.
Kill the clutter!
As my wife will tell you (in a very loud voice with her hands waving in the air), "If it wasn't for the clutter, cleaning this house would only take 1/2 the time!"
Boom.  Do you get that?
I sure do.
It's all the crap stuff that covers the floor, the counter tops, the kitchen table, the dining room table, blah, blah, blah, that causes blood pressures to go into the danger zone.
It's crazy.
And it's TOTALLY preventable.  (I'll publish a more-detailed post on that soon — I promise.)
So here's what we take care of in the kitchen today:
Get the counter tops cleared off.  This is No. 1 problem in our house.  Perhaps your house too?
Mail, homework, keys, loose change, items that need to go to the recycle bin, debit card receipts, pencils, pens, dishes, half-empty water bottles, etc., etc.,
The short-term goal is to get that stuff OFF the counter tops. The long-term, permanent goal is to train ourselves to KEEP the clutter from accumulating.
I know:  easier said than done.
But.  It's do-able.
And you CAN train your family members to get their acts together too.  It takes some time and some conditioning (old habits are hard to break), but it can be done.
Now, Let's Talk Toilets
Next up — the BATHROOMS.  Get the bath towels off the floor, maybe hang up new hand towels to replace the dirty ones.
The theme here is "Wipe and Swipe".
It's all about spray, wipe, and keep moving.
With just a couple pieces of paper towel (or a cleaning rag) you can spray some all-purpose cleaner or anti-bacterial cleaner on the counter and in the sink(s).  Wipe down fingerprints and toothpaste splatter (gross!).
You can use the SAME paper towel to wipe off the top of the toilet tank and then the area around the toilet seat and the seat itself.
Then, a super-fast pass over the mirrors with some glass cleaner — we're not looking for white-glove clean here.  In fact, here's a little secret.  Since I'm going to be replacing the hand towels, most of the time I just use a barely-damp hand towel to wipe down the mirrors.  Again:  keep it simple on Wednesdays.
We're looking for "I can live with this" level of clean, okay?
Boom!  You're done.  And hey, there's no toilet bowl cleaning on Wednesdays.  : )
YOUR TURN:  Is clutter killing you?  What cleaning tips and tricks do you have to share with us?