Back-to-school time is in full-swing at our house. My youngest son started his first year of high school last Friday (Yikes!) and my oldest son heads back to college in just a few days to begin his sophomore year.
It's a crazy-busy time of the year, for sure.
And yes, it's totally true what they say: time flies. At warp speed!
Check out these four (4) great products that might just make the academic year a little easier for you.
Easy is good, right? Heck yes!
Read on.
BOGO has taken on a whole new meaning: It's Buy One, GIVE One.
Perhaps you've seen the display at your local Target store as you've been doing your back-to-school supply shopping.
For every Yoobi (pronounced "you-be") school supply you purchase, a school supply is donated to a classroom in need.  How awesome is that?!?
Yoobi makes some pretty cool-looking products, including brightly-colored highlighters and journals. (Yoobi products are available online and exclusively at Target stores nationwide here in the U.S.)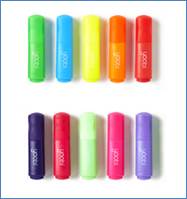 Coffee? Yes, Please!
Help keep your college-kid bright-eyed and bushy-tailed with a Keurig K10 MINI Plus Brewing System. And, get this, they now come in 24 school-spirited colors. You can check them out here.
Even though my son's small university didn't make the special edition cut, he fires up his Keurig every weekday morning.
And the wife and I have one (our second one actually) on our kitchen counter top that gets lots of use. Love. It.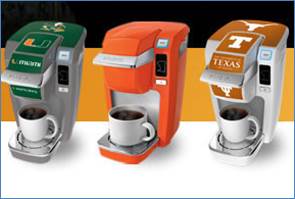 Bag the Brown Bag Lunch
Who says lunch has to be boring? The Bento Box from OXO is anything BUT boring. In fact, it's an awesome way to carry your lunch to school (or work).
It's just the right size for eating lunch on the go – at school or at the office. The set includes one 12 oz. container, one 7 oz. container, on 2 oz. container (for salad dressing or dipping sauce). You also get a divider, spork and an silicone strap to get it all together.
Can you say Yum-O?
Taking your lunch is WAY cheaper than going out for lunch. This is the perfect container.
It's also microwave save and BPA free. Boom!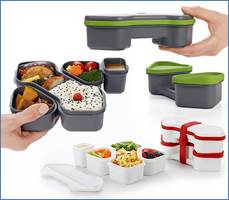 Book-lovers Unite!
Hey. I LOVE books. And while I prefer the feel and smell of an old-fashioned paper book, I'm totally in love with my Scribd subscriptoni. Why? Maybe because I have over 500,000 books to choose from.
Maybe because I have New York Times best sellers, classics, reference books, and a whole lot more at my digital fingertips. And, maybe, because the really cool part is that I have access to them on my PC, and my iPhone.
Scribd works on internet browsers as well as Apple, Android and Kindle Fire devices. Woot!
For a flat fee of just $8.99 per month, you can read an UNLIMITED number of books.
So…if you're a student who is looking for some reference material for a paper, Scribd might be your answer. And, when you're sick and tired of reading textbooks (and you will be!), then treat yourself to some pleasure-reading with a book from Scribd.
And, for you moms and dads out there: for the price of a couple fancy coffee-shop drinks, you can read until the cows come home – all month long!
Think about it: it's pretty tough to find ANY hardback book at your favorite bookseller for $8.99 or less. But, with Scribd, you get over 500,000 books to choose from and you can read as many as you like, each and every month you subscribe. It's a no-brainer!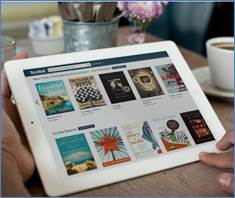 Click here to start your FREE trial.
Disclaimer: I received a three (3) month subscription to Scribd as compensation for this post. However, all opinions are mine and mine alone.