It's summertime.
It's grilling time.
No one wants to stand over a hot stove.
Turning on the oven is a no-no on a hot summer day.
Solution:  Grilled Chicken Salad.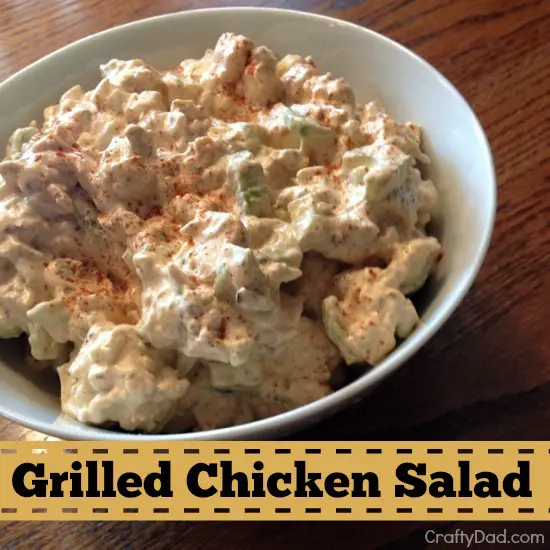 This is so easy and only takes a few minutes to put together.
Be smart and already have some hard-boiled eggs in the fridge.
And, since you're going to be grilling boneless/skinless chicken breasts anyway (right?), grill a few extra (four to be exact).
You'll thank me later.
Okay. Let's get busy.
Low-Carb Recipe :: Grilled Chicken Salad
This is a quick and easy dish to make -- especially good for summertime!
Author:
Michael (Crafty Dad)
Recipe type:
Salad, Summertime Meal
Ingredients
4 grilled boneless/skinless chicken breasts (diced)
4 hard-boiled eggs (diced)
1 cup chopped celery
¾ cup mayonnaise (we use Hellmann's)
1 T. dill relish (you can use sweet relish if you want; dill has fewer carbs!)
1 t. celery seed
1 t. freshly ground black pepper
1 t. paprika
Instructions
Place diced grilled chicken in a large mixing bowl
Add celery, eggs, relish, and spices
Add mayonnaise
Fold ingredients together gently; make sure they are completely blended together.
For best results, place salad in a covered glass or plastic container and refrigerate overnight.
Enjoy on some fresh bread, over some mixed greens or all by itself. It's SO good!