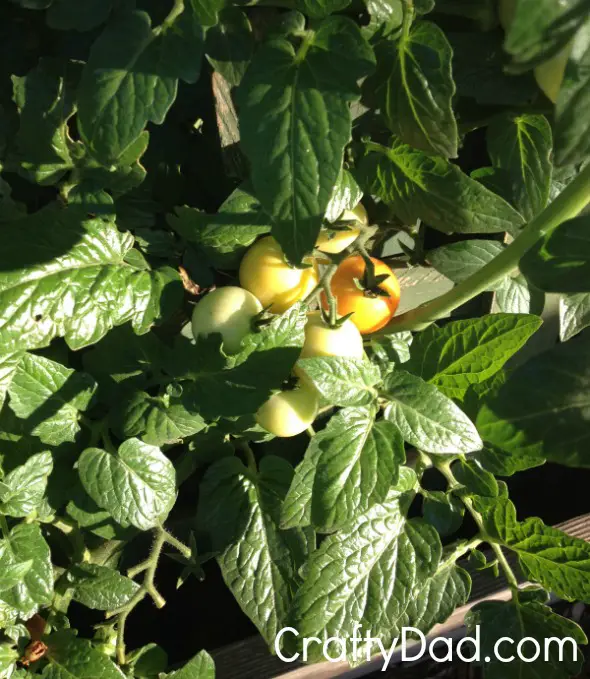 My (self-diagnosed) ADD is getting the best of me. : )
Read on for details!
The weather is teasing me with the warm, almost summer-like days.  I love it, don't get me wrong.  But it cannot last.
Can it?
The tomatoes are still producing as you can see from the photo I took early this morning.  Although the cooler temps and shorter days are making it tough for them to ripen.  I'll miss the garden goodness, for sure.
Speaking of tomatoes (and ADD), I've done another crazy thing and started yet ANOTHER blog.  This one is all about…tomatoes.
I LOVE them.  I have always loved them.  I will always remember the good times I had being in and around my grandpa's garden.
And I had my own garden as a young teen.
My wife and I have had 'official' gardens at home.  A community garden.
Container gardens too.
I love tomatoes.  And several other garden vegetables too.  But I'm very biased towards tomatoes.
I confess.
Tomatoes have had a special place in my heart.  Forever.
So, I wanted to give them a special place and invite you and all the internet community to share my love for them.
My new site is TheTomatoFreak.  Because that's what I am.  And my online research tells me there are LOTS and LOTS of other people (maybe you?) who are also freakishly in love with them.
Whether you consider them a vegetable or a fruit, it simple doesn't matter.  We love them, don't we?
Please stop by and leave a comment.  Or pin an image to one of your Pinterest boards.
Show the world some 'tomato love' won't you?
No worries, I'll still be posting here.  (Although from the span of time of my last post until this one, you would have thought I was on some sort of hiatus or sabbatical.)
Ha!  Nope.  But I will tell you that I've been battling a series of some very serious headaches for the last six to eight weeks.  Uggh!
Doctors are trying to get to the bottom of it.
I've had pills and appointments and MRIs.  I'm frustrated.
But hopeful!  I shall always remain hopeful.