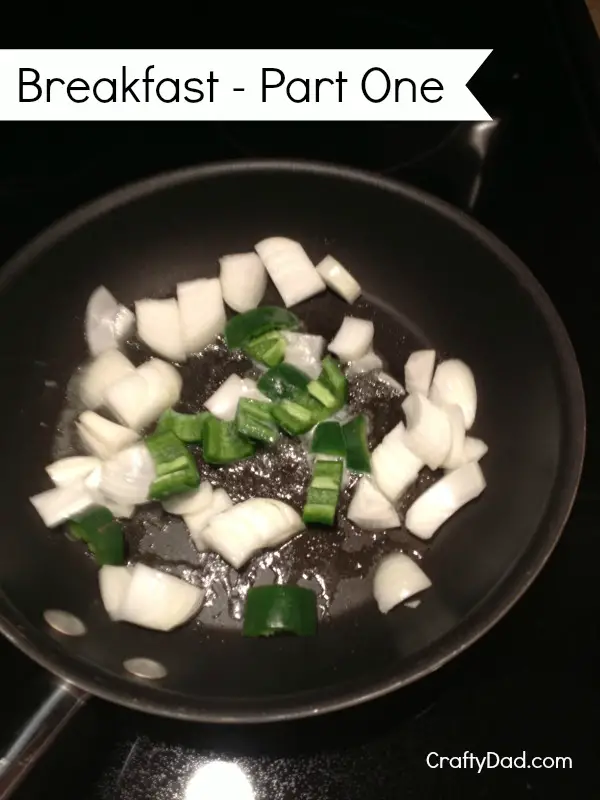 Another Super-Easy Paleo Recipe for You!
Granted, weekends allow a bit more time for cooking.   But seriously, cooking breakfast shouldn't take very long no matter what day it is.
Case in point:  this morning's scrambled eggs with onions and jalapeno pepper.  And a nice salad on the side.
If you have ten minutes, you can do this.  Hands down.
You only need a few tools and a few ingredients:
Tools:
Saute pan
Mixing bowl (I use my four-cup glass measuring cup)
Dinner fork
Silicone spatula
Ingredients:
Three eggs
One tablespoon butter
Two tablespoons water
One big pinch of black pepper
1/4  of an onion – roughly chopped
1 jalapeno pepper – seeded and chopped
Today, I had my eggs with a basic salad of pre-mixed greens (which also included radishes and carrots), half a Roma tomato and half an avocado.
Okay, here's the deal:
Place saute pan on the stove and crank the heat to medium high.
Allow the pan to get hot and add the butter.
Add the chopped onion and jalapeno pepper.  Give them a stir.
Meanwhile, break the eggs into the mixing bowl.
Add the black pepper.
Beat eggs, water, and pepper together.
Pour egg mixture over onions and peppers.
Don't do anything for a minute or two.  Once you see the edge of the egg mixture start to solidify, then give everything a few turns.
Turn the heat down to medium.
Cook until the eggs are done to your likeness.
While your eggs are cooking, you can mix up the salad.
In fact, once the eggs are 99.9% done, remove them from the heat.  Just slide them over to another burner on the stove.  They will continue to cook all by themselves.
Now, mix up your salad.  Add whatever veggies you like.
Add the oil + vinegar dressing.  Toss well.
Grab a big dinner plate.
Slide the eggs onto the dinner plate.
Add the salad to your plate.  Right next to the eggs.
Done!
Breakfast in about ten minutes: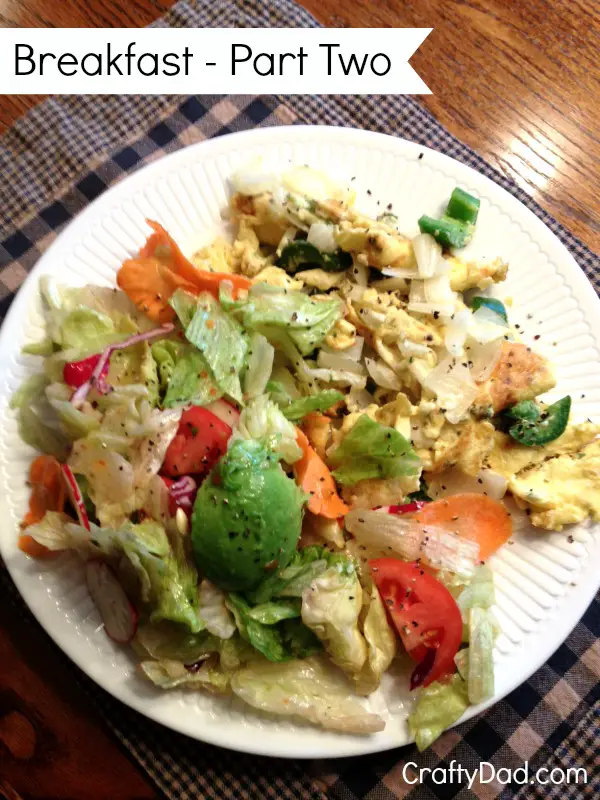 Your Turn:  What are you having for breakfast?  Share your favorite breakfast foods in the comments section below!