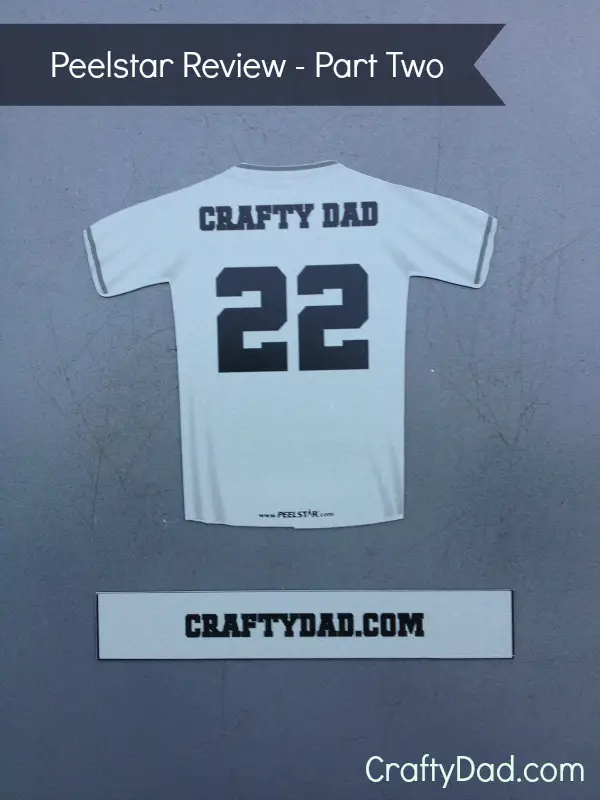 Wow, this is way overdue.  I wanted to share with you the cool magnet I ordered from Peelstar.com.
Back in this post, I reviewed the super-easy ordering process for my Peelstar magnet.
Quick Recap
I chose the jersey with my favorite number (my birthday), added the CraftyDad name across the shoulders and also the "team" name of "CraftyDad.com" for my rectangular magnet.
My order was processed in just one day and mailed out via the USPS.
I received my order in a padded envelope.  And..I got twice the items I ordered.  Double-woot!!
The Goods
Shown above are the magnets attached to a cookie sheet.  Creative, huh?  If I had planned this a bit more carefully, I would have placed a ruler next to the magnet so you would have an idea of how big these are.
Such was not the case.
Peelstar.com Jersey Magnet
The jersey measures about 4-1/2 inches from edge of sleeve to edge of sleeve.  It's 4 inches from top of collar to bottom edge of jersey.
The rectangle measures 4-1/2 inches wide by 3/4 of an inch tall.
These would be great on a locker, the side of your fridge, or on your car.
I highly-recommend these magnets.  They get an A+ in my book!
With school in full-swing now, be sure to support your kiddos with a magnet or vinyl decal.  They will appreciate it!
UPDATE (11-4-2013):  PeelStar.com now has a YouTube channel.  Check out all the fun and video content here.