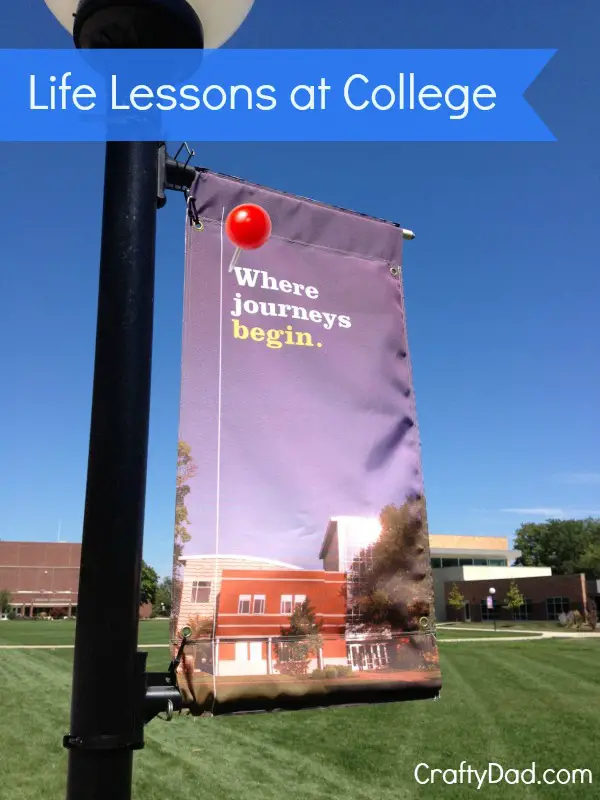 College Days
My wife and I took our oldest son to college this weekend.
We've been preparing ourselves for this big event for many months.  And, we thought we were ready to 'let him go'.
Let me tell you:  it's a tough, tough act.
Oh, but the life lessons you can learn at college.
We did really well all day:  through the setup of his room, and lunch, the walks around campus, and the welcome-to college-life-presentation late in the afternoon.
We were golden.
He lives in a great residence hall.  Wi-fi.  Central air conditioning.  A laundry room on every floor.   Close to the student union.  Close to everything!  And it's a totally smoke-free campus, too!
It's nice.  Way nicer than my dorm was thirty years ago.
Then and Now
My room was hot and stuffy in late summer and early autumn.  We had box fans back in my day.  No A/C.
The place I lived during college was on the very edge of campus – away from all the other buildings.  Like we were the lost-boys from Peter Pan or the bad-boys (from anywhere) and they really didn't want us to be part of the campus.
Okay, maybe I'm over-reacting.  A little.
And laundry room?  Oh, it was in the basement.  A dark cinder-block room that you didn't want to hang around in any longer than you had to.
It was right next to the smoking lounge.  Where the exhaust fan ran 24-7.  It was a little creepy to be in there.  I usually smoked my Old Gold cigarettes outside with my 'smoker friends'.  We were cool, you know?
Smart. Cool.  Smokers.
Okay.  Not so much.
Wi-fi?  Hello? Ha!  In 1980 you were lucky to find a desktop PC .  Sure, there was talk of this internet thing.   For the most part it was a network of universities linked together.  So you could do research 'online'.
On campus, there was ONE personal computer that I knew of.  It ran dual floppy disks of WordStar, one of the first word processing software programs.  Oh, and there was the noisy, little dot-matrix printer too.  Remember those?
Using WordStar was clunky, but it was pretty fancy too.  In the early 1980's anyhow.
Oh, how times have changed!
Crazy.
Time to Say Goodbye
Our last scheduled event of the day was a presentation by the president of the university and the introduction of the student orientation leaders.
The president's talk was simple, from-the-heart, and there was no need for note cards.  This lady knew her story and she was sticking to it.
She spoke of family and community and learning and diversity and involvement and service.  She told the audience that the friends you make in college are many times life-long friends.
She asked students to stand if college was going to be their first experience with having to share a bedroom.  The audience erupted in all-in-good-fun laughter.  After a long pause, she promised these students they would have even MORE learning experiences by having a roommate.
When I was there, the president was an older, stuffed-shirt guy.  Blah, blah, blah.  I cannot remember what he spoke of.  I'm sure I was somewhat impressed by him.
I hope.
Good Luck Kiddo!
And then came the time for us to leave…and for him to stay.  Uggh.
That was the tough part.
A lump in my throat.   Hard to breathe.
I only cried a few tears as I hugged him tight and told him how proud I was.
What I Learned Today

The banner shown in the photo above is my FAVORITE banner on the campus.  And there are lots of them.
And while it's obviously meant for the students, I think it's appropriate for all of us.
Every day is full of opportunities for a new journey.   You can click here to Tweet that.
Lessons I Learned Today:  It's all about Choices
There are literally hundreds of choices we make each and every day.
What time we get up.  What we wear.  What we eat.
Our attitude.  The words we speak.  The people we choose to interact with.
How we handle good news, bad news, no news.
How we treat our kids.
Do we cut the grass today or tomorrow?  Who's going to feed the dog?
What are we keeping?  What are we selling?  What are we donating?
Do we help our kids with their homework?
What time is dinner?  What are we making for dinner?  Or are we going out?
What are we watching on TV?  What book are we reading?
What time do we go to bed?  Do we care if our kids stay up all night?
Choices + Choices + Choices = Our Journey
Good Choices + Good Choices + Good Choices = A successful Journey
Poor Choices + Poor Choices + Poor Choices = A not-so-successful journey.
What path are you on?  Is it the one you WANT to be on?  If not, what would it take to begin a journey that takes you where you want to be?
Please, share your thoughts in the comments section below.