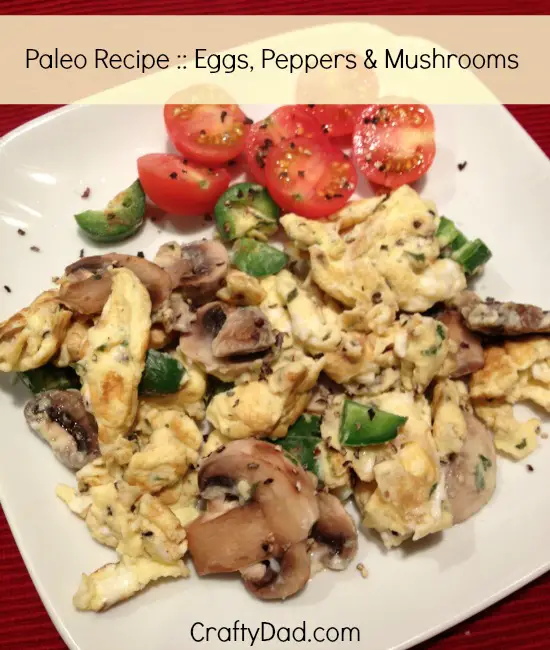 Another Super-Easy, Super-Fast Paleo Breakfast Recipe
Here's one more Paleo recipe for the yes-you-have-time-to-make-a-Paleo-breakfast lineup.  It takes just a few ingredients and can be ready to eat in about 5 minutes – start to finish!  There's absolutely nothing earth-shattering about this.  But…it might just get you in the breakfast-making mood.
That would be awesome!
Easy. Squeezy.
If you're on the Paleo plan, then you certainly have eggs, peppers, and mushrooms in the fridge. Riiight?
Black pepper and your favorite seasonings are probably at eye-level in the kitchen cupboard or pantry. So there's no excuse for not making this.  It's a super-simple Paleo recipe.  I have some sort of scrambled eggs or a Microwave Egg Creation throughout the week.
Don't pigeon-hole your food choices!
While it's an egg-based recipe and considered a breakfast food, like pretty much ANY recipe, you can cook this up for lunch or dinner too.  To me, a recipe is a recipe.  There's really no reason to label it.
It's food.  No matter what time of the day – you simply cook it.  And eat it. 🙂
Okay.  Here's the recipe.  Get busy!
Quick & Easy Paleo Egg Breakfast
Ingredients
2 eggs
3 button mushrooms, sliced
1 jalapeno pepper, seeded and chopped
1 tablespoon water
1 pinch of black pepper
1 pinch of parsley
other seasonings (your choice)
cherry tomatoes, sliced in half
Directions
Fire up the stove on HIGH and place medium skillet over heat. Allow pan to get hot, then spray non-stick spray over bottom.
In a small bowl, break the eggs.
Add a tablespoon of water and seasonings to bowl.
Whisk with a dinner fork until completely mixed
Pour egg mixture into hot skillet
Add chopped pepper and mushrooms
Allow to cook untouched for about one minute
Turn down head to medium
Scramble eggs with a non-abrasive spoon or spatula
Cook until eggs are set
Plate up and add cherry tomatoes
Sprinkle all with more black pepper and a bit of sea salt
Enjoy!
Try this and let me know what you think. Share your thoughts in the comment section below!