This is my Paleo twist on the traditional recipe.
Who needs the rice?  You'll never miss the grains in this bold-tasting Paleo recipe.
Get to the farmers' market and pick up four, fresh green peppers.  Plan to make these in the next day or so.  They are SO. VERY. GOOD.
Paleo Stuffed Green Peppers
(Makes four stuffed peppers):
The What:
TOOLS:
Tongs
Large stock pot
Large, deep skillet
8 x 8 baking dish
INGREDIENTS:
1 pound grass-fed ground beef
4 large green peppers.  For best results, try to find peppers with

flat

bottoms.
1 taco seasoning packet (or make your own with chili powder, cumin, and other spices you have in your pantry)
1 14.5 oz. can diced tomatoes (juice included)
1 small zucchini – seeds removed and finely diced (you should end up with about a cup of zucchini)
2-3 carrots (or 6-8 baby carrots) – peeled and finely diced (you should end up with about a cup of carrots)
1 medium onion – chopped
1 jalapeno pepper – chopped (optional)
Your favorite taco sauce or hot sauce (optional)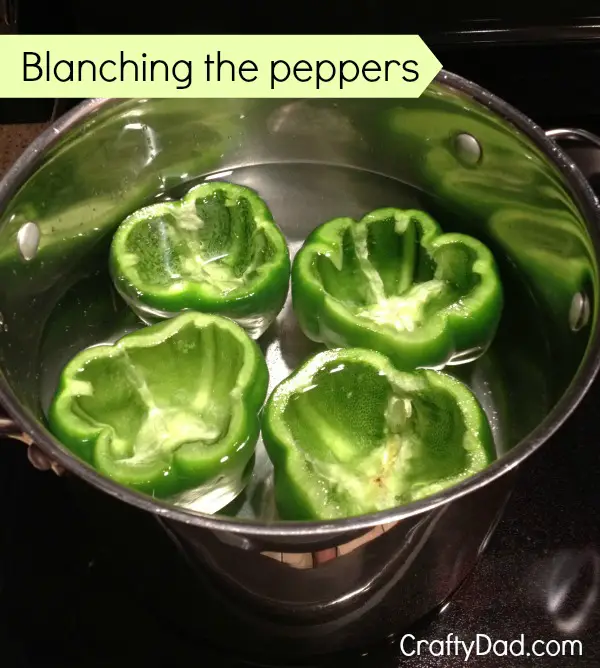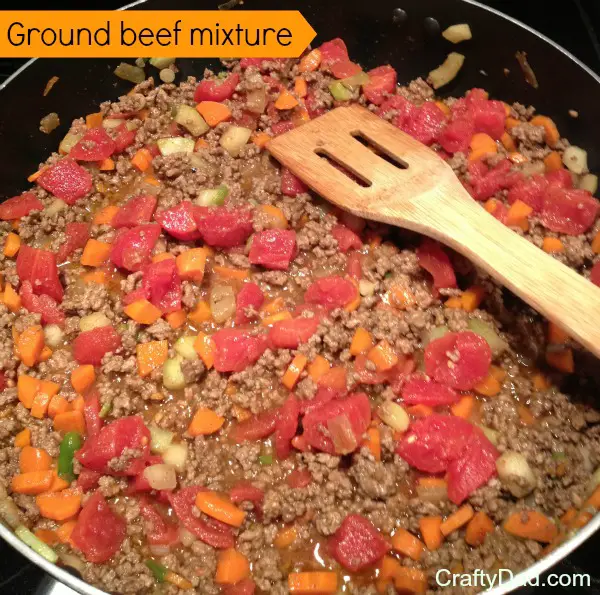 The How:
Pre-heat oven to 350°F.
Wash green peppers and slice off the tops.  Carefully remove seeds and membranes.
Place peppers in a large stock pot.  Cover with salted tap water.  Bring to a boil and allow peppers to blanch for about 4-5 minutes — until just tender.
While the peppers are blanching, cook the taco-seasoned ground beef in a large skillet according to the directions on the packet (or recipe if you're using you own blend of seasonings).  Add the zucchini, carrots, onions, and jalapeno pepper (optional)  while you're cooking the ground beef.  Cook until vegetables are nice and tender.
Once the taco-seasoned meat and veggies are almost fully cooked, stir in the can of tomatoes.
Heat all the way through, allowing most of the liquid to cook away.  Stir frequently.  (You may need to reduce your cooking temperature at this point.)
With a set of tongs, carefully remove peppers from boiling water and place open side down on a clean dish towel to drain excess water.
In an 8 x 8 inch baking dish, place the peppers (open side up) side by side.  Be careful; they will be hot!
Using a large spoon, fill each pepper to the top with the ground beef mixture.   If you have extra, spoon it around the outside of the peppers or place in a separate container.
Place peppers in hot oven and bake for 10 minutes.
Remove peppers from oven.
Plate up and add taco sauce (optional) or hot sauce (optional).
On the side
I would pair the stuffed peppers with a hearty romaine and kale salad made with lots of fresh tomato, green pepper, mushrooms, and cucumbers.  Finish the salad with a big splash of my homemade oil + vinegar salad dressing.
Enjoy!
Your Turn:  Is this something you'll make?  If so, let me how it turns out for you!  Leave a comment below.