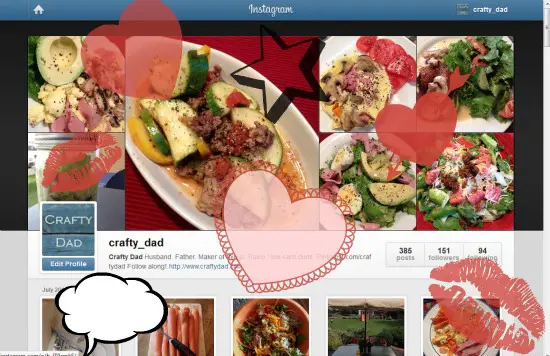 Why I do This

I blog because I like to share stories, facts, and information that might help you.
Helping people and making people laugh are two gifts that I share with the world.  Every. Single. Day.
I do it at work.  At the grocery store. On the highway.  At Walmart. Here on the blog.  And on apps like Twitter, Pinterest, and Instagram.  [By the way, if you're not already following me, I'd be extremely honored if would take the time to do so.  I promise to do my best to bring you only really good stuff. ]
If I drive you nuts, you have my permission to drop me like a hot potato.
No hard feelings.  Ever.
Live. Laugh. Love.
Life is short.  Way too short to take seriously all the time.  Agree?
You deserve some down-time.  Some time to just sit and do nothing.
Or surf the web.  Or read a book.
You need some time for a good belly-shaking laugh.  As they say, 'laughter is the best medicine.'  I believe that's 100% true.
But please.  Beware.  There's a fine line between "me-time" and "responsibilities-time".
It seems I've been crossing that line (a lot) lately.
How it all Started
A few years ago, during a family vacation in North Carolina, I opened an Instagram account.  I took a few photos and posted them.  No big deal.
And then I just sort of let the account go dark.
Fast forward to June, 2013.
I can't remember why I decided to start posting more photos, but I did.  And a few became a few more. And a few more become quite a few more.  And then more and more and more.    Trust me:  my iPhone was a very busy gadget.
I became infatuated with the ease and fun of sharing photos with the world.
I started getting followers.  Only one or two at first.  Nothing earth-shattering.
It Gets Ugly About Now
And then it snowballed:  I posted photos all day long.  I got lots of 'likes' and comments.
More people started following me.  And they started recommending their tribe to follow me.
It was almost like a drug.  The more I posted, the more I needed to post.  And the more time I spent checking for 'likes' and comments.  And followers.
My family noticed all this phone activity too.  And they weren't too happy about it.
I was taking pictures of all the meals and snacks I ate.  I shared all the great produce my wife and I bought at the farmers market.  Photos of the books I found at the used-bookstore ended up on Instagram too.
And silly photos like me sitting at JC Penney, in my flip-flops, waiting for my son to find some running shoes.  Oh, and there's a recent one with me on the chaise lounge (on our patio) with my bare legs and feet propped up.
None of these photos are 'wrong' per se.  And I'm not ashamed of them.  Really.  But I think I have gone a bit overboard with them.
My wife would MORE than agree:  I've gone WAY over-the-edge with the IG thing.  And constantly checking my iPhone for updates and messages.
What's wrong with me?
Confession is Good for the Soul
So, why am I telling you this?   Because each of you, in your own special way, has touched my heart.  And I love you like a good friend or a brother or an uncle or a father.  You choose!
I just want you to know that I will be spending less time on the app.
No, I'm not closing the account.  No, I'm not un-following anyone.
No. Way.  Are you freaking kidding?
Yes: I will continue to post photos of the food I make and eat.
Yes:  I REALLY appreciate every 'like' and comment and follower.  Seriously.  You make my day when my screen lights up.
Yes:  I want you to reply with all the 'likes' and comments and following and recommending that you care to do.
Turning the Corner
Just know that I have 'seen the light'.  I've been cheating my family out of some quality time.
That's a bad thing.  For a husband to do to his wife.  For a father to do to his kids.
I'm not proud of that.
And I'm glad that my wife warned me that what I'm doing is hurtful.
So…if you post a photo and you don't get an immediate "Nice!" or "Woot!" or "Yum!" or "Congrats" from me, don't freak out.
I'm still here. I've just decided to dial things back a bit.