Cornhole is STILL the Craze
Right after video games, cornhole has become the game of choice for kids (and parents t0o).  We see tons of them every weekend at the lake.  Campers bring along their family, food, their pets, AND their cherished corn hole games.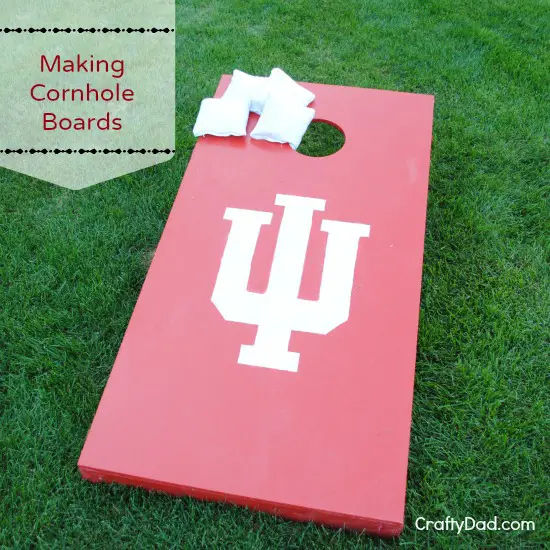 A Great FAMILY Project
Making cornhole boards is a great project for you and the kids.  Even the youngest ones can help in some way.  Just BE SAFE!  Keep power tools unplugged when not in use and out of the reach of small children at ALL times.  We want this to be a fun project — not a trip to the ER. 🙂
About a year ago, Nate and I made a set of cornhole boards.  You can see one of them in the photo below.  (And as a personal side note:  Wow, doesn't the backyard lawn look nice and green?!?!)
Okay, on with the story. 🙂
Several members of our family are IU (Indiana University) fans.  So…as home-grown Hoosiers, we opted for the old Cream and Crimson design.
Our boards turned out great.  For first-timers, this project went very well — from beginning to end.  Let me just say:  good instructions make ALL the difference.
Let's get started!
The Project
Here are the supplies and tools you will need to make your very own set of cornhole boards:
Supplies:
4  2" x 4" x 8' boards (clean, knot-free, and straight)
2  ½ "x 2' x 4' pieces of nice, clean plywood (you can find these pre-cut at Menard's, Lowe's or Home Depot)
3/8"carriage bolts – 4-1/2" long (you need four of them)
3/8" flat washers (you need four of them)
3/8"wing nuts (you need four of them)
A box of 2-1/2" wood screws
Paint (optional, but highly-recommended)
Decals (optional)
Bean bag / corn bag tossing bags (you can make your own (more time and expense than you might think) or buy them online.  We bought our first set here [insert link].  We picked up our second set (for the current project) at the Shipshewana Flea Market. I am PRETTY SURE if was this vendor, but cannot be 100% sure as there are multiple cornhole vendors at the market.
Tools:
Circular saw (or hand saw)  We used a sharp hand saw and had no trouble.
Measuring tape
Pencil
Compass (from your kid's school supply drawer) Or some other way to draw a nice 6″ diameter circle.
Painter's tape
Straight edge ( a carpenter's square or ruler will work just fine)
Wood clamps (optional but handy)
Electric drill
Screwdriver bit (to match the head of your screws – we like the Phillips head style)
3/8″ drill bit  (To drill the holes for the legs and to make the pilot hole for cutting out the 6″ circle)
Sabre saw (hand-held jig saw)
Saw horses (optional, but helpful)
Good lighting!  DIY projects are much more fun when there's adequate lighting on the subject.
You Need Some Time and Patience to Make this a Successful Project
Be sure to have all your supplies and tools ready.  And DON'T be in a rush to get this done.
With some basic woodworking knowledge, you can probably build these boards in an afternoon.  (Painting and drying time not included.)
Or, if you don't have a long stretch of time, you can work on this project in stages.
That's what we did on our first set.  We cut all the wood one evening (Remember:  measure twice and cut once!) and then spent a few other evenings in the garage putting them together.  I can remember that it was HOT in the garage.  We set up some work lights and a big box fan.
The last step was painting them.  Nate, my wife and I all pitched in to get that chore done.
The Details of the Project
Rather than try to tell you every step of the cornhole board-making progress, I'm going to share with you the online resource we used.  Check them out.  They have an eBook too, if you're interested.
It's a great site and they offer free, easy-to-understand instructions (with photos).  They even give you fantastic tips on painting the boards. And…they tell (and show) you how you can make your own bean bags (or are they corn bags?)
If you don't want to make the tossing bags, here's the place we bought our first set.  Easy to order, fast delivery, and the bags are still going strong.
Life Lessons
We had a fun time with this project.  I was able to teach my oldest son some basic woodworking skills. Skills that I learned from my very-talented woodworking father. Thanks Dad!
My dad taught me well.  And it was heart-warming to be able to pass along that knowledge.
A New Chapter Begins …
With Nathan going off to college in a few weeks (a tough time for the wife and I) , he wanted to build another set of boards with his new university logo.
We bought the logo decal from a vendor at the flea market.  They are AWESOME!
My wife and Nate went to the lumberyard the other night after dinner.  We have all the wood and most of the supplies we need.
We're now in the process of choosing a paint color that will match the yellow/gold color of the Spartan helmet that will adorn this new set of boards.
All the kids at my son's school are gonna be jealous.
And I mean that in the nicest way.
Stay tuned for stories and photos of our project.