Ahhh, Summertime!
With all the rain we've had over the past few weeks, all the plants (and the grass) have been growing like crazy.
The flowers around the patio and in the back-of-the-yard landscape area look the best they've ever looked.
As I was watering my container gardens, it dawned on me that this beauty may be short-lived.  I'm a photo-freak so I had to capture this stuff digitally.
I made my way inside the house and grabbed my Nikon D3000 camera*.  Normally, my iPhone camera is fine, but I wanted some really great shots.
The Nature Show from Casa de Crafty Dad
Here are a few of the things that are blooming (in all their glory) in our backyard right now.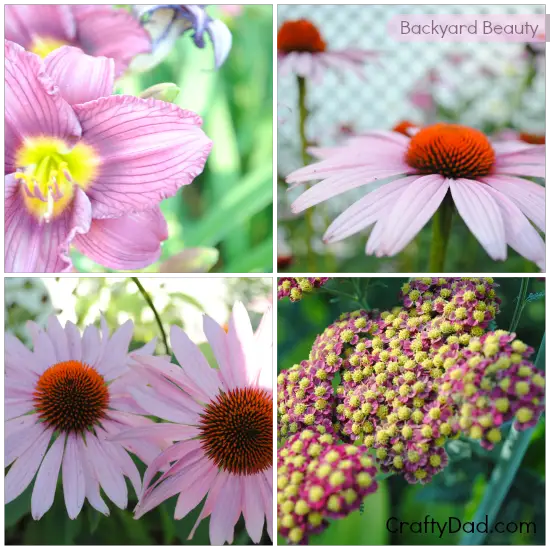 I'm finally getting brave. Instead of using the "auto" setting, I went all manual on these shots.  I really like the way they turned out.  The small depth of field makes them 'pop'.
Advice from your Crafty Dad
If the weather permits, get outside and enjoy some fresh air this week.  Take a walk or a drive and find yourself a little bit of nature to enjoy.  Whether it's a road trip or a walk in your backyard, just get out there.
And breathe. Let the sun shine on your face as feelings of grace and gratitude fill your heart.
Take some more deep breaths and each time you exhale, let out all the negativity from this week.
Get rid of it.
Put it behind you.
It's over.
Done with.
Ahh yes. Just smile.
It's good for the soul.
*If you want to know what I want for Christmas, or my birthday (coming up in October – hint, hint), or ANY OTHER day for that matter, I would love to have a 50mm lens for my Nikon.  Like this one.