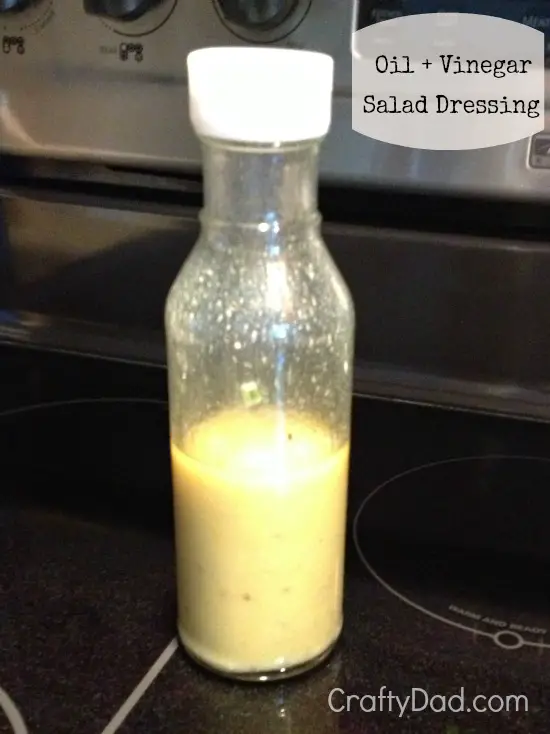 Whoa there!
Before you go any further, please check out my NEW and IMPROVED recipe for Oil + Vinegar dressing.
It's here.
Here's my (not so secret) recipe for a great-tasting oil + vinegar salad dressing.
This is the same stuff you see on pretty much ALL my salads here on the blog and on Instagram.
Most store-bought Italian dressing has High Fructose Corn Syrup in it.  Bad.  Very, very bad.
Make your own and feel good about it.  And…make it the way YOU like it.
Here's the basic recipe.  Tweak it as you wish.
1/2 cup EVOO (Extra Virgin Olive Oil)
1/4 cup apple cider vinegar
2 T. celery flakes (a bit pricey, but worth it)
1/4 t. coarsely ground black pepper
1 T. Dijon mustard (generic is fine, no need toget all fancy, okay?)
Pinch of sea salt (optional — a lot of Paleo peeps say salt is not on the approved food list)
You can also add some minced garlic (or garlic powder).  But…given the fact that garlic seems to stay with you ALL DAY LONG, I omit it.  🙂
Add the ingredients to a salad dressing shaker bottle* in the order listed above.
Make sure the top is secure, then shake the heck out of it to make sure everything is mixed up.  The celery flakes may be a bit crunchy (I used the dried variety), so you may want to make the dressing ahead of time so it has time to soak up the wonderful oil + vinegar solution.
Trust me — it's worth the wait!
Try this on salads of all types (like the taco salad below) and veggies.  It's also great on roast pork.
*Don't have a salad dressing bottle?  No worries!  Use a small glass jar with a tight-fighting lid.