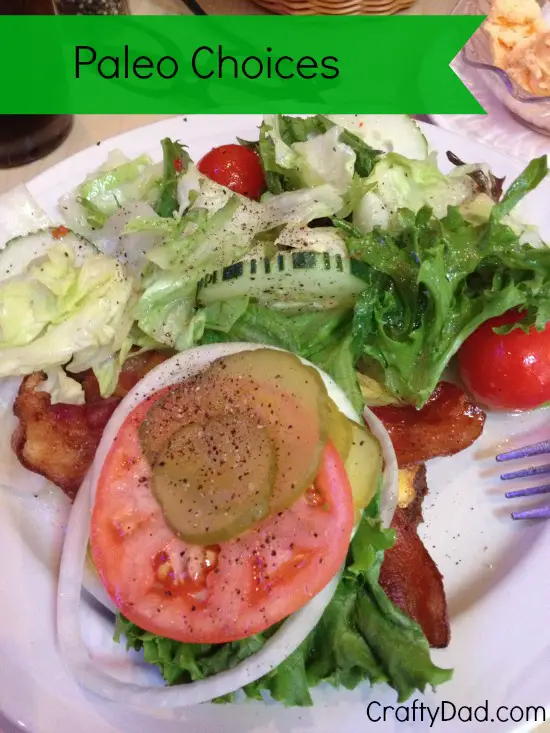 Choices.  It's all about choices.
Seriously.  It is.  There are about a million choices you're faced with every day.  And when it comes to food, sometimes your stomach tries to outsmart your brain.
Don't let it happen to you!
Be smart and plan your meal choices.  And…when you find out that you're without power at home, don't let that mess you up.
A quick stop at the fast-food joint is usually NOT a smart choice.
You have great intentions of getting a salad and a water, right?  But…two steps into the place and the sight and smell of a burger and fries suddenly takes you down for the count.
Ask me how I know.  I have been there and done that a few more times than I'd like to admit.
However…I'm getting smarter in my old older age.
Be Creative.
We lost power today during a nasty thunderstorm.
With temps in the high 70s and the humidity off the charts, I talked my family into going out to eat.
Trust me, there were no arms twisted.  🙂
We opted for a trip to the Grill Room.  They have excellent food.  Great service.  And…we are members there, so we have to spend so much each month or they bill us anyhow.
See how that works?  Okay.  Moving on.
Let the Eating Begin
There are all sorts of crackers in the basket atop each table.  I was strong and did not have ANY of them.
A proud moment, for sure.
The Grill Room's menu offers lots of choices.  Salads.  Chicken wings. Sandwiches. Wraps. Steaks. Pasta dishes.  They are all very, very good.
My wife and youngest son chose the Marinated Chicken sandwich.
My oldest son got the steak sandwich (served open face with wonderful mushrooms on top).  Along with a baked potato with sour cream.
Yum.
I got creative and ordered a bacon cheeseburger.  Instead of the potato choice, I requested a small salad with Italian dressing.
Waiting. Waiting.
The place was extra-busy for a Tuesday night.  (Perhaps OTHER people had no power and decided to go out for dinner?  I don't know.)
I was hungry but maintained my composure and avoided the crackers.  I was so strong.  And that's not like me.  Really.
When our food arrived, I quickly slid my burger out of the bun.  The bread found a new home on a small side-plate.
I poured the Italian dressing over the salad (with cucumbers and cherry tomatoes).  Then I transferred the salad from the salad plate to my dinner plate.
Voila!  A Paleo(ish) meal ready to eat.  I know.  I know.  The cheese (hiding under the lettuce and bacon) on the burger is NOT Paleo.
As you can tell from my blog posts (and Instagram photos), I'm not a 100% Paleo guy, so I let myself off the hook this time.
Grace and gratitude are two values I hold in high esteem.  In case you didn't already know.
The Moral of the Story
So there you go:  there are lots of food choices out there.  Just because you don't see something on the menu that suits your fancy, don't despair.  Ask you server for options.
Life is full of options.  Make good ones.
Your turn:  What did YOU have for dinner?  Share your food choices in the comment section below.