DISCLAIMER:  I was compensated for the post.  However, the opinions expressed on this post (and every other blog post here on CraftyDad.com) are mine, and not those of anyone else.  Ever.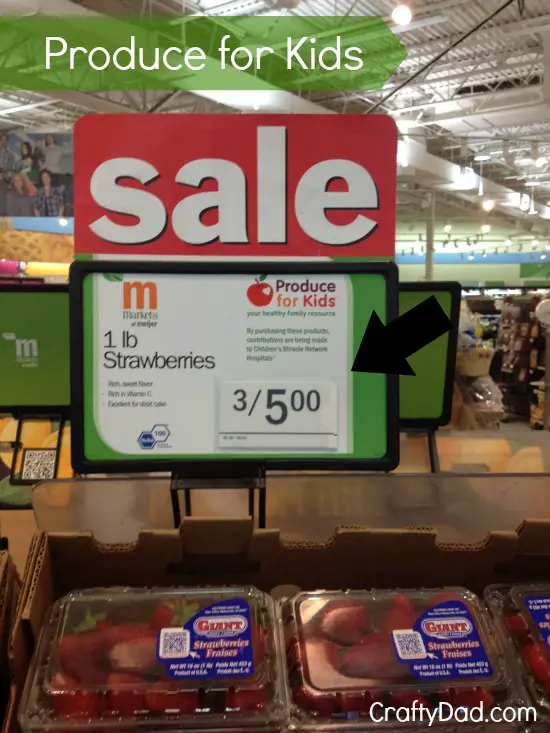 This past weekend, we did some shopping at our local Meijer store.  We were there to pick up a giant, decorated cookie that my wife ordered to celebrate our oldest son graduating from high school.  His commencement was this past Sunday.  His open house is NEXT Sunday.
We had to have SOME way of celebrating, so the decorated cookie was a perfect choice.  Nate and Matt both love those cookies.  🙂
Also on the shopping list was a tablecloth, a casual belt, some cinnamon roles and whatever else might be on sale.  Sound familiar?
Strolling through the produce department (on the way to the bakery to pick up the cookie) we passed a few bargains.
With strawberries at three pounds for $5.00, we couldn't resist.  So we bought two packages.
One of our favorite ways to enjoy strawberries is to toss them with some sugar and spoon them over slices of pound cake.
Topped off with some whipped cream, they are de-licious!
During our shopping adventure we noticed that Meijer has teamed up with Produce for Kids.
Here's my youngest son, Matt, next to one of the Get Healthy, Give Hope display.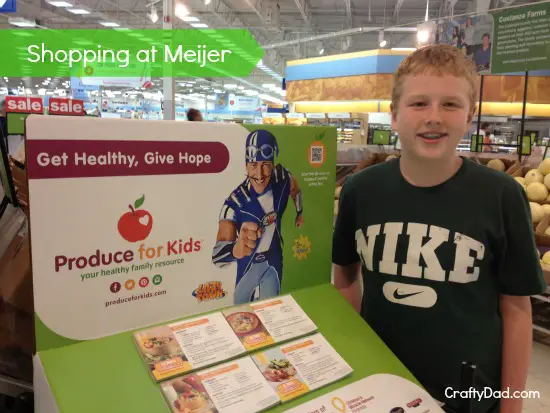 About Produce for Kids®
Produce for Kids® is a philanthropically based organization that brings the produce industry together to educate consumers about healthy eating with fresh produce and raise funds for local children's non-profit organizations. Since its creation in 2002 by Shuman Produce Inc., Produce for Kids has raised more than $4.2 million to benefit kids. To learn more about Produce for Kids and healthy eating, visit www.produceforkids.com, Facebook, Twitter, Pinterest or Instagram.
Raising Money for Children's Miracle Network Hospitals
The more fresh produce Meijer shoppers add to their shopping lists at local stores, the more hope they can give to local children. All participating fresh fruit and vegetable suppliers at Meijer stores will make a consumption-based donation to local Children's Miracle Network Hospitals.
To learn more about the campaign, shoppers can visit the Produce for Kids in-store display that features easy-to-prepare recipes, helpful materials with additional information on the campaign and links to visit more than 90 easy Ideal Meals®recipes online. The display also features characters from the popular Sprout® health-focused children's series LazyTown™ and The Chica Show, along with tips on healthy eating for kids.
Speaking of recipes, here are some summertime produce-related recipes you might want to try.
Banana FroYo
Serves 4
Preparation Time: 30 minutes
Ingredients:
2 bananas, peeled, chopped
3 cups lowfat yogurt
1 cup pineapple, cored, chopped
¼ cup caramel dip
Directions:
1.     Place bananas in freezer bag and freeze overnight.
2.     Blend bananas, yogurt and pineapple in blender until thick and smooth.
3.     Portion and freeze for 25 minutes.
4.     Drizzle with caramel dip and serve.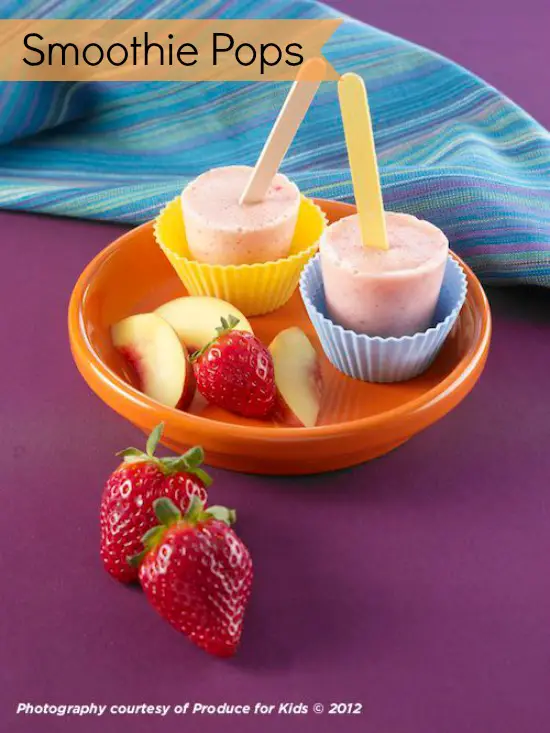 Smoothie Pops
Serves 16
Preparation Time: 20 minutes
Ingredients:
1 large peach or mango, peeled, chopped
1 large nectarine, peeled, chopped
2 medium bananas, peeled, sliced
1 cup strawberries, leaves hulled
1 cup blueberries
¼ cup orange or fruit juice
2 cups low-fat vanilla yogurt
16 paper cups
Directions:
1. Place all smoothie ingredients in a blender and blend until just smooth.
2. Place 16 paper cups on a baking tray.  Pour smoothie into paper cups.  Place tray in freezer and freeze until slushy, about 20 minutes.
3. Remove tray from freezer and insert one popsicle stick into the center of each cup.  Return to freezer and freeze until firm, about 2 hours.
4. Tear away paper cup and place on plate.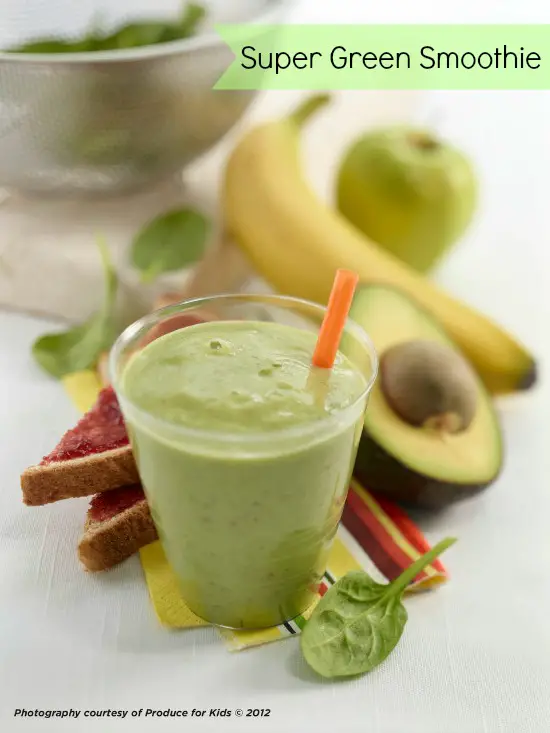 Super Green Smoothies
Serves 4
Preparation Time: 10 Minutes
Ingredients:
2 cups 1% milk
1 banana, peeled, cut in half
½ avocado, pitted, peeled
1 cup spinach, gently packed
1 cup green apple, cored, chopped
3 Tbsp. ground flax seed
2 Tbsp. honey
Directions:
1. Blend milk, banana, avocado, spinach, apple, flax seed and honey in blender until smooth.
For those of you unfamiliar with Meijer:
About Meijer
Meijer is a Grand Rapids, Mich.-based retailer that operates 200 supercenters and grocery stores throughout Michigan, Ohio, Indiana, Illinois and Kentucky. As a pioneer of the "one-stop shopping" concept, Meijer stores have evolved through the years to include expanded fresh produce and meat departments, as well as pharmacies, comprehensive electronics departments, garden centers and apparel offerings. Additional information on Meijer and the ability to shop for more can be found at www.meijer.com. Follow Meijer on Twitter @twitter.com/Meijer and @twitter.com/MeijerPR or become a fan at www.facebook.com/meijer.
Produce Sponsors

The following companies proudly support the Get Healthy, Give Hope campaign at Meijer locations and your local Children's Miracle Network Hospitals: Bolthouse Farms®; DOLE® Salads; Earthbound Farm® Organic Mixed Baby Kale; Grower Direct® California & Washington Cherries; HMC Farms, Fowler Packing Company, & SunWest Fruit Company – California Peaches, Plums, & Nectarines; T. Marzetti® Company – Marzetti® Refrigerated Salad Dressings; SUNSET® Tomatoes on the Vine; NatureSweet® Glorys™ Perfect Ingredient Tomatoes, Cherubs® Heavenly Salad Tomatoes, & SunBursts™ Sweet Golden Snacking Tomatoes; Potandon Produce – Green Giant® Fresh Klondike Rose® & Red Potatoes; Shuman Produce – RealSweet® Vidalia® Onions; Well•Pict Berries® Strawberries.
Please visit www.ProduceForKids.com for more information.