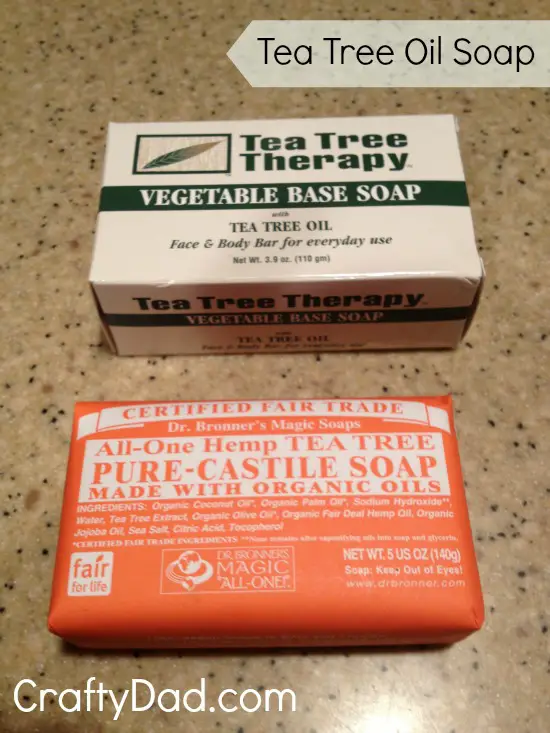 Tonight I raced home so I could change clothes, pile the family in the Pathfinder and go get my dad.
We made a dinner stop at Wendy's.  Good stuff was had by all.
Then a super-quick stop at the co-op health food store in Goshen.  Love that place.
My tea tree oil soap is almost gone.  I use it every day on my face — prior to shaving.
The bar at the top of the photo is my current favorite brand of tea tree soap.  I happened to see the Dr. Bronner's soap and had to get one of those bars to try too.
They both smell AMAZING.  If you've never smelled the earthy, almost medicinal smell of tea tree oil, they you owe it to yourself to take a whiff.  It. is. good. stuff.
I've been shaving since about the 7th grade.  Yeah, it's true.  I've used creams, foams, soaps, you name it.
A few months ago, I was surfing this web site and found this wonderful little soap company.  Being a sucker for a good, organic product (at a discount to-boot) I ordered some.
Smart choice.  This is now my all-time favorite shaving soap.
Check out their website and make a list of the soaps and other personal-care items you might want to try.  But wait!  Don't buy anything just yet!  I'm soon to be interviewing Alan Hicks (the man behind Eco Natural Soap) here on the blog.  He's  a great guy.
I can't wait to hear his story and pick his brain about all the great products he and his wife make.  I will share it all with you!
Alan has promised to give all my blog readers a special discount code.  And, get this, shipping is free.  It doesn't get any better.
Okay, gotta run.  I have to be up at 3:45 AM tomorrow.  Matt is headed to Cedar Point for the day.  It's the annual band trip.  All the well-behaved kids earned a trip to the amusement park.  I'm proud to say that Matt is VERY well-behaved.  (Love you dude!)
Roller coasters?  No thanks.  But I know Matt and his buddies will ride the rails until it's time to board the buses for home!
Hope YOU'RE having a great weekend, too!