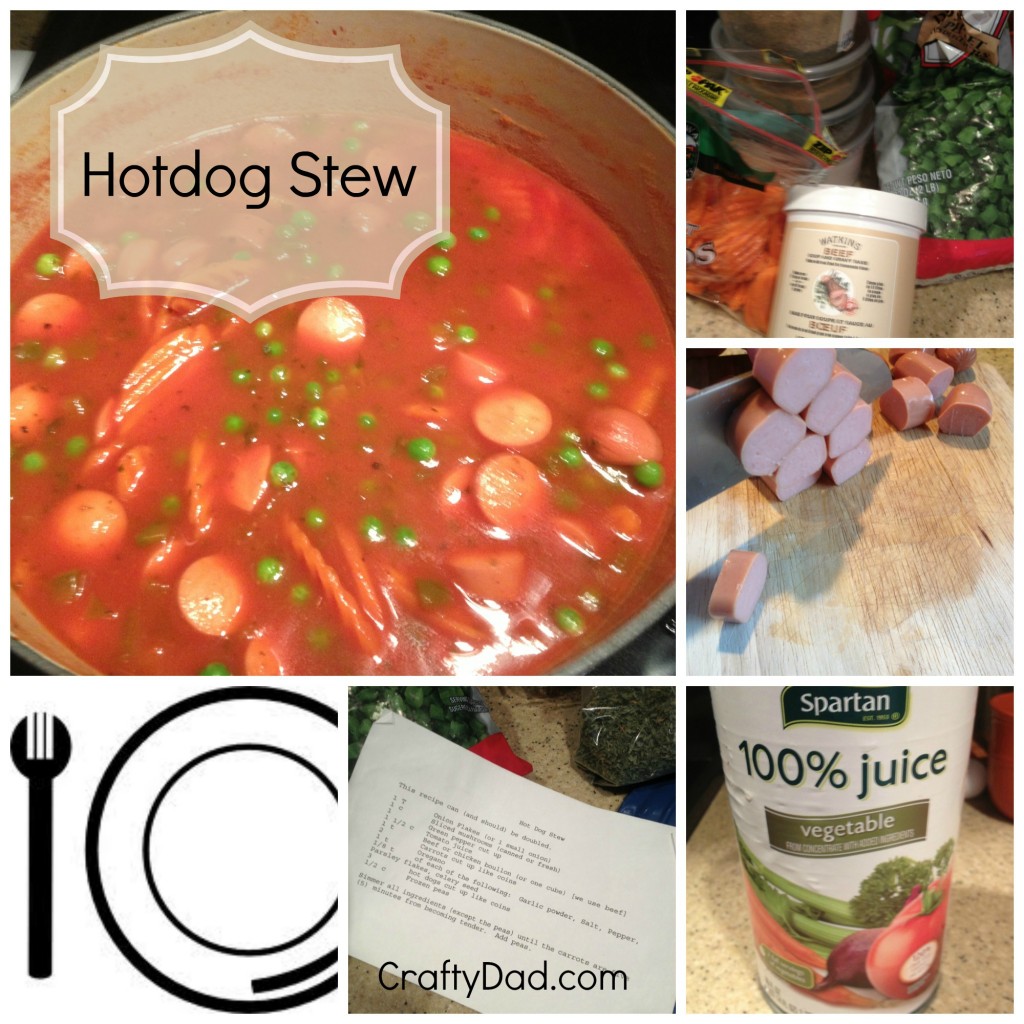 It's been a long time since I've made hotdog stew.  And while it may not sound very appetizing, it's really quite tasty.  Matt, my soon-to-be 13 year old loves the stuff.  So tonight, after dinner, I made a big pot of Hotdog Stew.  For tomorrow night's dinner.
We've had a lot going on the past few weeks.  Seems that end of the school year time is ultra-hectic.
Make-ahead dinners are a very good thing.
Tomato-based recipes are ALWAYS better the next day anyhow.  Can you say pasta casseroles and chili?
To help you with a possible crazy week, I'm sharing the recipe with you.
 Hotdog Stew
1 46oz. can of vegetable juice (like V8)
1 cup sliced mushrooms (optional)
2 tablespoons Onion flakes (or a small-medium onion, diced)
1 green pepper (diced).  I cheated and used about 3/4 cup of frozen, chopped peppers
1-1/2 to 2 tablespoons beef bullion (or 2 cubes)*
1/2 – 3/4 cup diced or sliced (like coins) carrots
2 teaspoons dried Oregano
1/4 teaspoon of Garlic Powder
1/4 teaspoon of Salt (optional)
1/4 teaspoon of Black Pepper
1/4 teaspoon of Parsley Flakes
1/4 teaspoon of Celery Seed
1 pkg hot dogs (cut into coins)
1 cup frozen (or canned) peas
Pour vegetable juice into large stock pot or Dutch oven.
Over medium-high heat, add all other ingredients (EXCEPT FOR THE PEAS) and bring to a light boil, stirring frequently to keep the juice from scorching.
When the carrots are almost done, add the peas.  Simmer until peas are cooked.
You can enjoy the stew while it's hot.  However, this recipe is MUCH better the next day.  Allow the stew to cool slightly, place in a covered container and refrigerate.
Re-heat and enjoy!
Let me know what you think.
*I use Watkins Beef Soup and Gravy Base.  It is way better than the other brand.  My wife and I are Watkins Associates.  Drop me a line and I'll send you a free catalog.