Sunday is Mother's Day.
Today is Saturday.  Doing the math, that only gives you a few hours to get something nice for your mom.
And for the dads out there:  You need to move quickly if you're going to find a gift (and a greeting card) so your kids can give your wife something sweet for her special day.
As a side note:  Moms are special people.  It's a shame that only one day is set aside as "her" day.
Being the professional procrastinator that I am, I have been in this tight spot many times.  And every year I swear I'm not going to wait until the last minute to find a gift for my wife.  And some super-nice cards.  You see, it's not just that I want to get her something, but my boys depend on me for ideas.  And for picking out the cards. And the gift(s).
Oh, the pressure mounts.
Last weekend, my wife and I went flower shopping.  It's an annual tradition where she and I (mostly she) pick out all the flowers and spikes and vines that will make up her beautiful array of flower pots.  Those flower pots are HER'S.
Stay away from them.  She waters them.  She pinches off the dead blooms.  She fertilizes them.  They are her babies.  Please — stay away.
So, what are you going to give Mom on Sunday?
According to a survey* of over 2,000 U.S. mothers with kids under the age of 18, 14.6% of moms prefer handmade gives, followed very-closely by 13.6% who prefer a day off.
Mom needs a break.  And what better way to give her what she needs than by treating her to a delicious (and nutritious) homemade breakfast in bed?
Produce for Kids is an organization that encourages healthy eating among families.  They provide simple, healthy meal solutions and resources for parents while raising funds for local children's non-profit organizations.
So come on Dads, you and the kids will not only enjoy making these recipes, but they are meals that mom can feel good about eating.  That's a win-win in my book!
Check out these options:
Scrambled Waffle-wich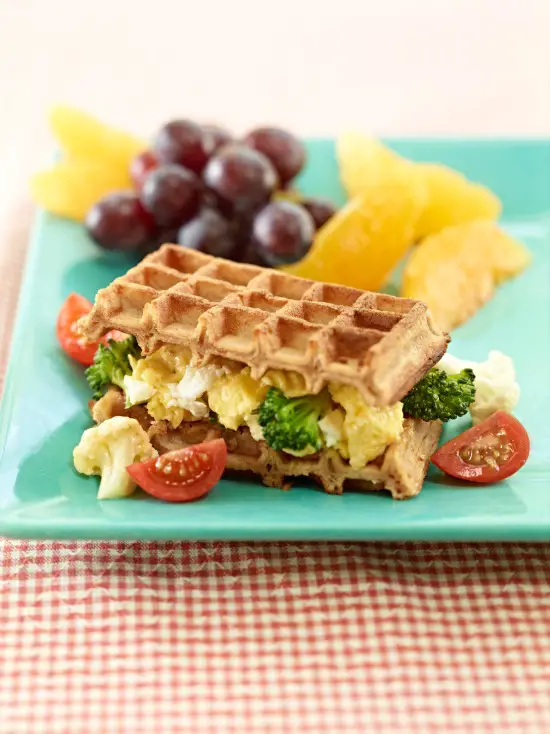 Serves 4
Preparation Time: 20 Minutes
Ingredients:
4 eggs
2 Tbsp. olive oil
1 cup cauliflower and broccoli, chopped
½ cup cherry tomatoes, diced
¼ cup feta cheese
4 premade whole wheat waffles
Directions:
1. Crack eggs in mixing bowl, scramble with fork.
2. Heat oil in skillet on medium-high heat, add broccoli, cauliflower and cherry tomatoes, cook 2 minutes.
3. Add eggs, stir and cook 2-3 minutes or until firm and not clear.  Mix in cheese.
4. Toast waffles, top with egg/vegetable mixture. Fold waffle in half to make sandwich
Rise 'n Shine Oatmeal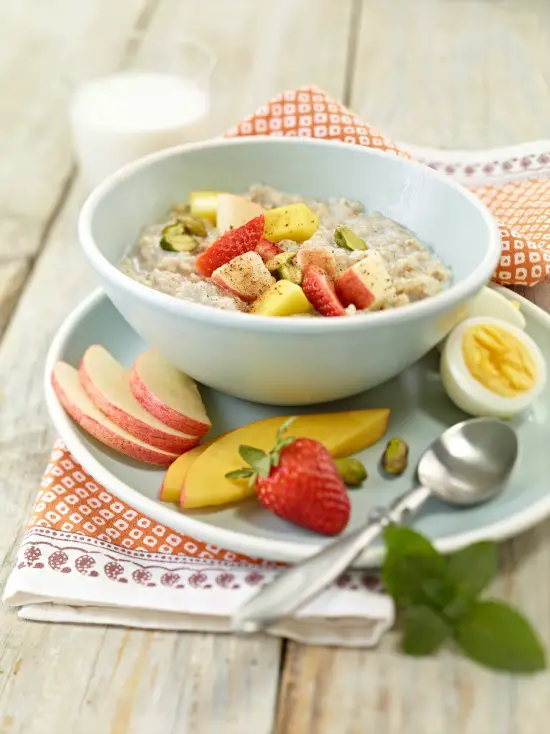 Serves 4
Preparation Time: 20 Minutes
Ingredients:
1 cup rolled oats
½ tsp. ground cinnamon
⅔ cup strawberries, sliced
⅔ cup mango, peeled, pitted, sliced
⅔ cup apple, cored, chopped
4 Tbsp. pistachios
Honey, to taste
4 eggs
Directions:
1. In small saucepan, bring 2 cups water and oats to boil, add cinnamon.  Reduce heat and simmer 10 minutes or until thickened and tender.
2. Top oatmeal with strawberries, mango, apple, pistachios and honey, if desired.
Hard Cooked Eggs
1. Place eggs in saucepan, cover with cold water. Heat to a boil, cover and simmer for 10 minutes.
2. Once eggs are cooked, chill in cold water.
Florentine Egg Muffins
Serves 4
Preparation Time: 30 Minutes
Ingredients:
1 Tbsp. unsalted butter
1 cup mushrooms, sliced
½ cup tomatoes, diced
2 cups spinach, loosely packed
1 cup red bell peppers, seeded, diced
6 large eggs
1½ cups grated potatoes, cooked
½ cup shredded mozzarella cheese
Directions:
1. Preheat oven to 400°F.
2. Heat butter in large skillet over medium-high heat; add mushrooms, tomatoes, spinach and peppers. Cook for 5 minutes, or until tender and water evaporates. Remove from heat and set aside to cool.
3. Lightly beat eggs in large mixing bowl. Mix in cooked vegetables, potatoes and cheese. Season with salt and pepper.
4. Line large muffin tin with 8 greased foil cups. Portion ½ cup mixture into each cup.
5. Bake in oven for 10-20 minutes, or until eggs puff and are firm.
So rather than a quick trip to the store for a box of chocolate, or some foo-foo hand cream, perhaps it's time to whip up a good breakfast.  One that Mom will remember for a long time.
Now THAT is the perfect gift!
Happy Mother's Day!
*Survey was conducted by the research firm NPD Group for Child's Play Communications.
Photos courtesy of Produce for Kids ©2012