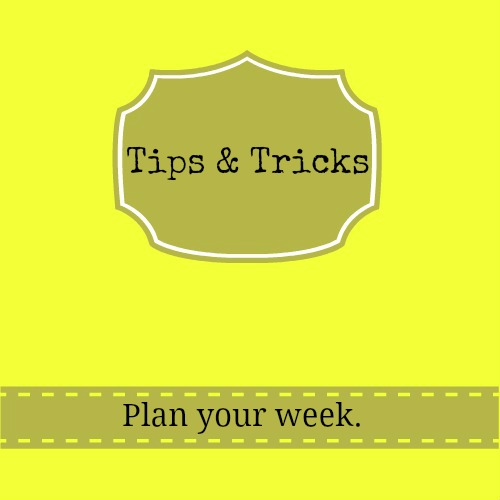 This is big.
Probably the biggest and best thing you can do for yourself on the weekend is to make plans for the upcoming week.  The payoff is huge.
I know:  it cuts into your weekend free time.  But once you get in the hang of it, it really doesn't take that long.  And I'm telling you, you will be SO glad you did it.
What kind of plans, you ask?  The important ones:  meals and kids are the two biggies.  Work and social obligations are also items worthy of a good planning session.
Sitting down on a Sunday afternoon and plotting out the next week takes some time.  And it takes time to make the habit stick.  But, take it from me, it is a habit worth creating.  You like to eat don't you?  You don't want to leave you son or daughter stranded at school do you?  Didn't think so.
There's nothing worse than sitting at your desk at work when 4:30 rolls around and you're wondering to yourself, "what are we going to have for dinner?"  My wife and I have been there and done that a few too many times.  You too?
But we've gotten better.  A lot better.
To get a handle on the new week, here's what we look at on Sundays:
Food plan (grocery lists, cooking schedules, etc.)
We do most of our grocery shopping on the weekend.  Before we drive off to the food market, we make a list of all the items we'll need.  Going to the grocery store without a list is asking for trouble.  Trust me.  : -)  My wife and I figure out the meals for the weekend and (at least) Monday and Tuesday's dinners too.  Many times, there's leftovers from the weekend that will get eaten up on Monday night.
Weekend Food Prep
This weekend, we make two meatloaves, a big pot of chili and shredded taco chicken.  I also made up a batch of chicken salad (love that stuff).  I'm doing the low-carb diet these days and chicken salad is a great option for me to have around.  By the way, you can follow my low-carb journey here.  Yes, I'm blogging about it.  I'm sort of that way:  when I really get "into" something, I have to create a website and blog about it.  I'd love to see you tune in.  Comments are ALWAYS appreciated.
Appointments (doctor, dentist, etc.)
Life is busy.  There seems to be at least one appointment during every week that we need to plan for.  With a family of four, that's not unusual.  Especially with the horrible cold and flu season we've had this winter, it seems like one of us is at the doctor's office every week.  It's crazy!  (Note to self:  add "I appreciate my medical insurance" in your gratitude journal tonight.)
School (sports practice, band concerts, etc.)
Okay, so with two boys (one who is infatuated with sports) there's ALWAYS something going on.  Matt is on the middle-school wrestling team (much to his parents' chagrin — a topic for an entirely different blog post).   He has either a practice or a wrestling meet pretty much every day after school.  And sometimes on Saturdays.  Intense.  That's our Matt — intense! 🙂
Since I work 45 minutes from home, my wife handles 90% of the transporting needed to get people where they need to be.  (Thank you honey!)  Even so, we both keep our calendars in synch with the week's activities.  Things come up and if she needs to stay late or meet with a client, I can pinch hit and make sure Matt gets picked up.
Winston Churchill once said,"Failing to plan is planning to fail."  And boy was he right.
Your turn:  how do you keep track of all the things you have to do?  Share your tips in the comment section below.