With Valentine's Day just a few days away, I chose a quick and easy project.  You probably have most (if not all) the necessary supplies at home already.
Here's the list of what you will need:
Precut, cardstock bookmark blanks (5-1/2" x 2" is a good size) You can buy them at Michael's, Hobby Lobby, Walmart, Etsy, etc. – or you can cut your own from heavyweight cardstock (very thin cardboard works too.)
Scissors
Glue stick

or

all-purpose glue
Scrapbook paper in your choice of patterns or colors.  Yes, this is a Valentine's Day project, but that DOESN'T mean you have to go all "hearts-and-cupids" on it.  You can go green and 're-cycle/up-cycle' on this project too. 

Scraps

of paper work just fine.  You don't need a whole sheet of paper unless you're making several bookmarks.
Paper punch
Ribbon, yarn, or string (about 10″ long)
Embellishments of your choice (photo, stickers, buttons, etc.)
Colored pencils or felt-tip markers
I was a bit pressed for time tonight (what else is new, right?) so I went the easy route on the two bookmarks I made.  Once I had all my supplies pulled together, it only took about 15 minutes to make both of the bookmarks.  The pink one will go to my Aunt Barb, so I'll add a little personal note on it.
The three-stamp version is one that I'll tuck in my 'finished project' box for another gift-giving occasion.
The process is pretty simply.  I placed my store-bought bookmark on the back of a piece of scrapbook paper and traced around it.  Then, I cut out the shape and glued it to one side of the bookmark.  This became the 'back side".
I repeated that process with the paper that became the 'front side'.
The heart had an adhesive back on it.  So it was simple to peel off the backing and place it close to the ribbon hole.
For the the brown bookmark, I added a second layer.  I found some vintage-looking paper and cut out enough of it to fit nicely on the brown background.  I think it looks nice.
Here are the finished products: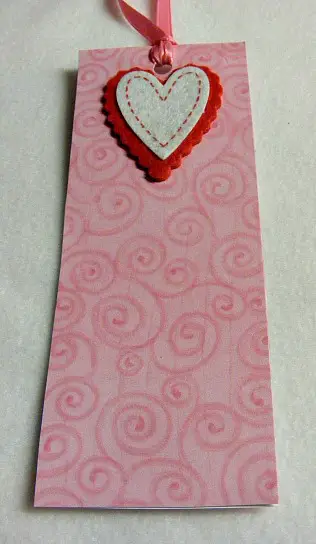 So, there you have it.  A super-easy project that you and your kids can work on together.  In fact, the kids can make these bookmarks simply by drawing on them with crayons or markers.  You can punch a hole at the top and loop some ribbon or string through.  Bam!  A cute little gift.
Are you making gifts for Valentine's Day?  Let me  know by adding a comment below.  Thanks!