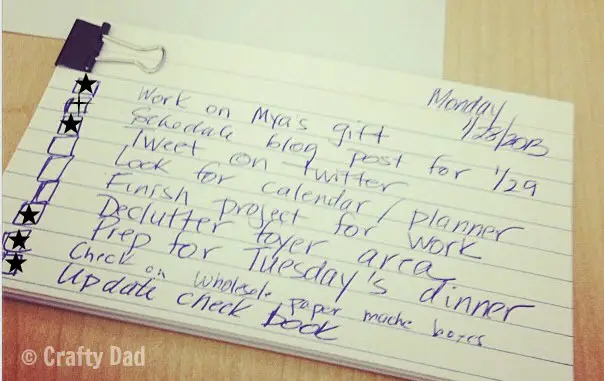 We try so hard to keep all our ideas, thoughts, and tasks in our head.  Why?  That's really not what a brain is for. Paper (or, in this case, a short-stack of index cards) is a MUCH better place to capture all the 'stuff' you need to do.
I carry one of these around with me all day long.  Every day.  At work. At the grocery store.  Everywhere.  Because I never know when a thought will cross my mind.  And I really only want it to cross my mind ONCE.
Smart.
Writing things down frees my mind for what it's really supposed to do:  think, process, create.
I encourage you to find a way to empty your head of all the appointments, tasks, to-dos, and grocery lists.  All it takes is a few index cards and a binder clip.
Low-tech is sometimes best.  Just saying.
Your Turn:  What is your favorite way to keep track of your 'stuff'?  Leave a comment below.