Since my last post, which seems eons ago, a lot has happened.  Same for you, huh?  I'm sure!  Life moves along at a high rate of speed.  It's hard to keep up sometimes.
I won't bore you with all the details, but I'll give you the Cliff Notes version of what has gone on in my world.  Then, I'll let you in on a little secret.  Read on.
Warning!  Long Blog Post Ahead
My wife and I celebrated our 25th wedding anniversary in June.  We celebrated the day while we were on our family vacation — in Carolina Beach, NC.   It was our third trip to CB in the past four years.  We had a fantastic week of sand, surf and super-good food.  Those North-Carolinians can make some darned-good barbeque.
Our accommodations were less than stellar, but we survived.  (Really: you shouldn't have to clean a condo before you feel comfortable living in it for a week.  But hey…dirt happens!)  A quick trip to Walmart and the Dollar Store and we were an awesome arsenal of cleaning.
Matt (my youngest son) turned twelve.  His birthday is the same day as our anniversary.  So, while he's not real keen on celebrating his special day while on vacation, we made the most of it.  We ordered a birthday cake from the Food Lion early in the week and planned to pick it up on Matt's birthday.  "Everyone should have a birthday cake" is something my wife firmly believes in.  And I totally agree.
This year, on our anniversary and on Matt's birthday, we took a chartered ocean fishing trip.  We had talked about it in the past, but never did more than that.  The boys love to fish in the lake back home, and they really wanted to get out onto the water and try ocean fishing.  We did our online research a few weeks before vacation and found what seemed to be some good options.
While in CB, we had some free time one late afternoon, so we drove to the area where all the charter boats are docked.  We quickly found the boat that we had seen on the internet.  "Fish Dance" had a nice sound to it and the boat, although not the largest of the group, looked sea-worthy.  As we were looking to find departure times, a pickup truck pulled up beside us.  A middle-aged man asked if we were interesting in a fishing trip.  Indeed we were.
Gone Fishin'
Our departure time was 7AM that Wednesday.  What a way to celebrate an anniversary and birthday.  We had a great time.  It was just the four of us (plus the Captain and the Mate).  We caught over FIFTY fish in less than four hours.  No. Kidding.  And here's the crazy thing:  we are not fish-eaters.  Seriously!  We like 'going fishing' but, honestly, we are the catch-and-release type.   But that day, we made an exception.
My wife and Matt had NO desire to taste fried fish.  Nate and I decided we'd make a go of it.  We had learned that after we returned with our catch, the Mate would clean and fillet all the fish we wanted.  He would bag them up and we could simply walk next door the Harbor Restaurant and they would fry them up for us.  It was after eleven when we got back to the dock, so lunch was a good option.
We took several pictures of the family and all the fish we caught.  It was quite a sight!
The Mate cleaned and filleted about six fish for us.  The other forty-some fish we 'donated' to the crew.  They ended up following us over to the restaurant and had a heaping platter full of fish too.  The remaining Spanish mackerel would be used as bait for 'bigger' fish.
Fish Anyone?
Nate and I ate lots of fish and French fries and coleslaw.  We found that, even as non-fish people, as long as there was plenty of tartar sauce, you can make it work.  : -)
SPECIAL NOTE:  While we were out on the sea, reeling in fish, I got a phone call from the Food Lion.  The bakery associate told me that the color combination that we ordered was not available.  Huh?  Seriously?  We pulled a cake out the display case and told them we wanted this type of decoration on a round, two-layer white cake.  How difficult could that be?  She gave me some new options and, best as I could hear her, I agreed to the new choices and then went back to fishing.
Later that day we went to pick up the cake.  "Disappointed" took on a whole new meaning that afternoon.  Matt's cake looked like something you'd find at a baby shower.  It was awful.  Instead of the bright, bold colors of blue and yellow and orange, it was decorated with pale blue, pale yellow and wimpy orange.  Come to find out, the lady who took our cake order was not the regular order-taker and she really botched it up.  Matt was unhappy.   My wife and I were unhappy too.
Matt's Birthday Cake
The baker-girl said she could offer us a different cake with different.  We jumped at the chance to make this right.  Within a few minutes, we had a cake that (while not perfect) was WAY better than the baby cake.  Way better.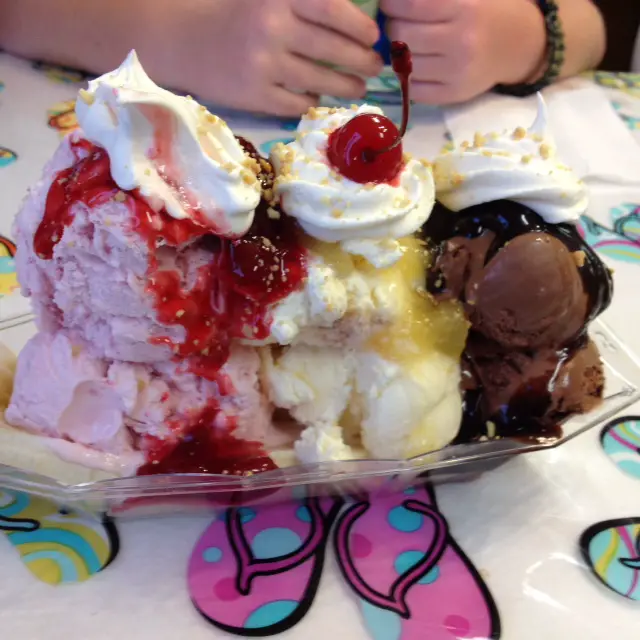 The rest of the week we just took it easy.  We sat on the beach, ate lots of barbeque pork, went miniature golfing, attended on outdoor concert featuring The Mako Band (they are really good!) and got gelato and the famous Britt's Donuts on the boardwalk.  We had ice cream at Squigley's.  If you're ever in the Carolina Beach area, you have to go there.  And of course, ate pizza at Michalengo's a few times.  We skipped the Fort Fisher aquarium this year and never made one trip into Wilmington, NC, which is just a few miles north.  We had opted for a low-key, relaxing vacation.  And that's exactly what it was!  We rented beach umbrellas and chairs and camped out on the beach all week. It was heavenly!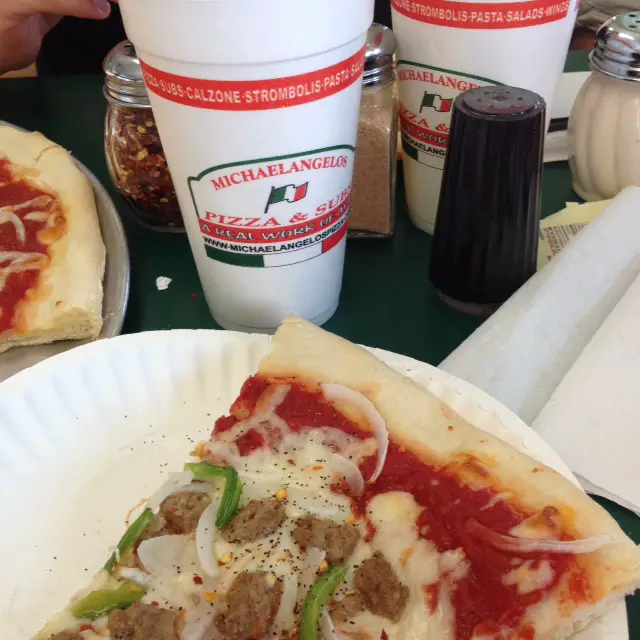 A New Driver in the Family
In other family news, Nate is seventeen (I am having trouble believing that myself) and has his driver's license.  I am having trouble with that too.  He's a good driver, don't get me wrong.  It's all the others on the road that concern me.  You know what I mean?
He took his second required PE class this summer to get it out the way.  He drove to and from class each day.  My wife and I were nervous and made sure he called us when he got to the school and when he got back home.  He got slightly lost one day, and Mrs. Crafty Dad came to his rescue.
The Secret
Okay.  Time for the little secret.  Are you ready?
I'm offering a little window into my personal world today.  [It's cheap therapy for me, so play along, okay?]  I almost deleted the Crafty Dad blog.  Yep:  the whole thing.
There are times when I felt that I've 'outgrown' the site and I wondered if a crafty dad is really the example I want my boys to see.  So I pretty much just let it go dormant.  I took a hiatus from blogging that didn't last very long.  I've found that blogging is in my blood.  It's a BIG part of who I am.  Being a creative type is a big part of me too.  Hell, it's been a part of me forever.  Since I was a kid I've been making stuff.  It's not something I can just turn 'off'.
I started a site devoted to personal organization and development.  That didn't last very long.  This spring, I was selected to give a motivational speech at Matt's sixth-grade graduation ceremony.  I came across a book (FYI:  I am a firm believer that everything happens for a reason) that became the backbone of my presentation.  I gave a copy of the book to all the kids.  That's how good it is.  I will be posting a review of the book here in a few days; you'll have a chance to win a copy.
I felt passionate about the book's content and about helping young people (all people actually) make good choices.  You can check out the blog here.  I'm planning to keep that blog current because I'm still very passionate about helping people make good choices.  The site has received good reviews and I want to keep the momentum going.
There's Creativity in my DNA
My creative side continues to chase and haunt me.  I feel called to come 'home' to the Crafty Dad site and make it more than it ever has been — whatever that means.  I just feel that I need to give this site a solid, intentional, focused effort.
Your turn:  Have you ever felt like you've been called to do something?  Like you aren't complete unless you follow the calling?  Please:  leave a comment below.