We're not big fans of fancy food.  You know, the foods that seem to take hours to prepare and only about fifteen minutes to eat?  We're just not into that.
Simple foods.  That's our mantra.  And we found something that fits perfectly.
There are a ton of Oriental Salad recipes floating around the web.   I typed "Oriental Salad" into Google and I got this: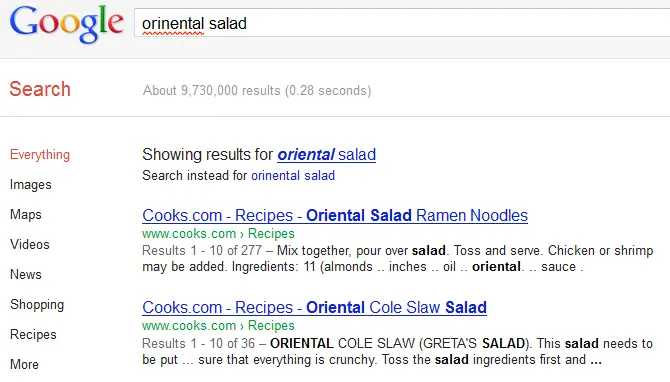 Yep:  9.7 million hits.
I decided to check out the number one result over at Cooks.com.  With a bit of tweaking, it is a keeper.
There seems to be a bit of confusion in the recipe.  It calls for 2 packages of cole slaw mix (one pound total).  Actually…one bag of coleslaw at my local supermarket is one pound.  So, in case you see the recipe and wonder, that's the deal.
The recipe calls for two (2) packages of Ramen Noodle soup in either the Oriental or beef flavor.  We used beef flavor last week.  And (ahem) this weekend we used CHICKEN flavor.  The beef flavor does give the salad a richer, darker flavor.  But if you prefer a lighter version, go with the chicken flavor.  It is excellent.
Last week's version included the chopped green onions.  This week: we left out the onions but added some sweet red pepper.  (Which I got a fantastic deal on.  Our local supermarket had the biggest, reddest sweet peppers on sale for TWO for a DOLLAR.  Un-real.  I bought four of them and should have bought the whole lot.)
Now…here's the secret ingredient that is NOT included in the recipe:  Soy sauce.  Oh. My. Gosh.  That is the ultimate topper for this already great-tasting salad.  Not everyone is going to like the super-saltiness of the soy, so…add a few shots of it to individual bowls of salad.  Don't over-power the the salad by adding soy sauce to the entire recipe, okay?
Here's the recipe.  Seriously:  you gotta try this.
Oriental Salad (w/ Ramen Noodles)
Ingredients
One package (16 oz) cole slaw mix with carrots
Two packages of Ramen Noodle soup (Oriental, Beef or Chicken Flavor)
Chopped green onions (optional)
Chopped sweet red pepper (optional)
Seasoning packets from Ramen Noodle soup
1/3 c. cider vinegar
1/2 c. salad (vegetable) oil (scant)
1/2 c. sugar (scant)
Directions
Make the salad dressing:
Whisk oil, vinegar, sugar and seasoning packet contents in a small bowl.
Make the salad:
In a large bowl, add the cole slaw mix, green onions and/or sweet red peppers.
Break up the Ramen noodles into bite-sized chuncks over the cole slaw.
Slowly pour the salad dressing over the salad. Using a rubber spatula or spoon, thoroughly mix the dressing into the salad.
You can enjoy the salad immediately, or place salad in air-tight container and refrigerate.
Leave a comment, or send me an email and let me know how you like this.