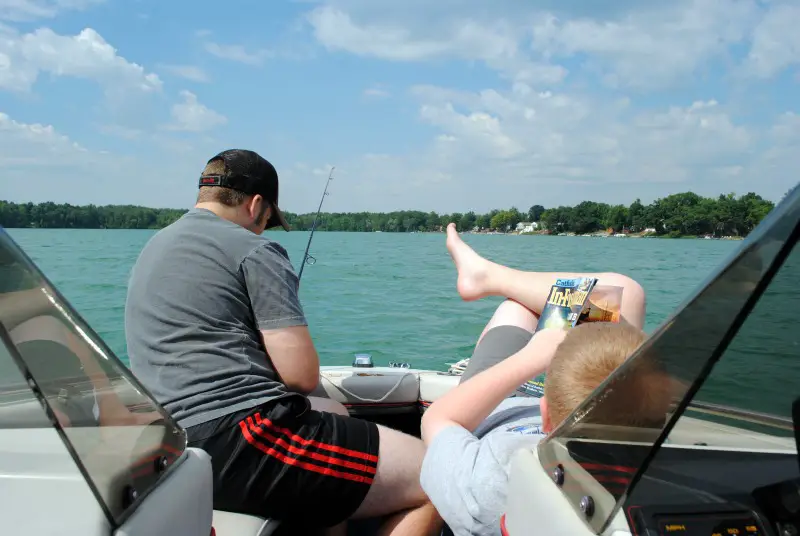 On the boat with the boys.
Here's a list of a few of my favorite things.  Keep in mind that my list changes from day to day.  Yeah.  I'm like that.  Most of them have NOTHING to do with creativity or crafting.  Sometimes I need to break away from the norm (whatever that is) and do something different.
Discuss.
Lemon-lime gelatin (in the little single-serving cups that we get at the big-box super-center).
Sweet potato tortilla chips from Trader Joe's.
Clear-barrel Bic stick ink pens.  (They've been on my favorite list for years.)
Diet Dr. Pepper.
Hard-boiled eggs with Dijon mustard and cayenne pepper sprinkled on them.
Spending time with my boys on the boat as evidenced by the photo above.
Our new sofa-recliner.  OMG, it looks great in the downstairs family room and it is SOOOO comfortable.
Re-runs of The Big Bang Theory.  I never watched the regular seasons.  But I love that show.  So geeky.  Maybe that's why.  ; – )
Individually-wrapped mozzarella cheese sticks.  I think it's the salt that I'm hooked on.  Darn.
Our new Dell computer.  Damn…that thing is fast.  And so quiet, compared to our old PC.
Kiehl's non-detergent face cleanser and Trader Joe's Shaving Cream.  Shaving every morning is a pain in the ass.  This stuff helps make it a little more enjoyable.
Sunshine.  Northern Indiana in the wintertime is dreary.  Almost depressing.  The sun was shining today and it made me smile.  Always a good thing.
Clearing out the clutter at home.  I have a tendency to accumulate stuff.  Gadgets, tools, supplies, paperwork, magazines, brochures, etc.  The past few weeks I've really forced myself to de-clutter and keep only the stuff that I REALLY need or want.  Guess what?  It's been a wonderfully liberating experience.  It's almost been more fun getting rid of the stuff.  I feel like a huge weight has been lifted off my shoulders.  Is that crazy?  Have you noticed that every magazine on the rack has some cover-story on clutter, or de-cluttering, or getting organized?  It must be an epidemic.
What's on your "favorite" list these days?  I'd love to hear from you.  Leave a comment here on the blog, tweet with me on Twitter or send me an e-mail.