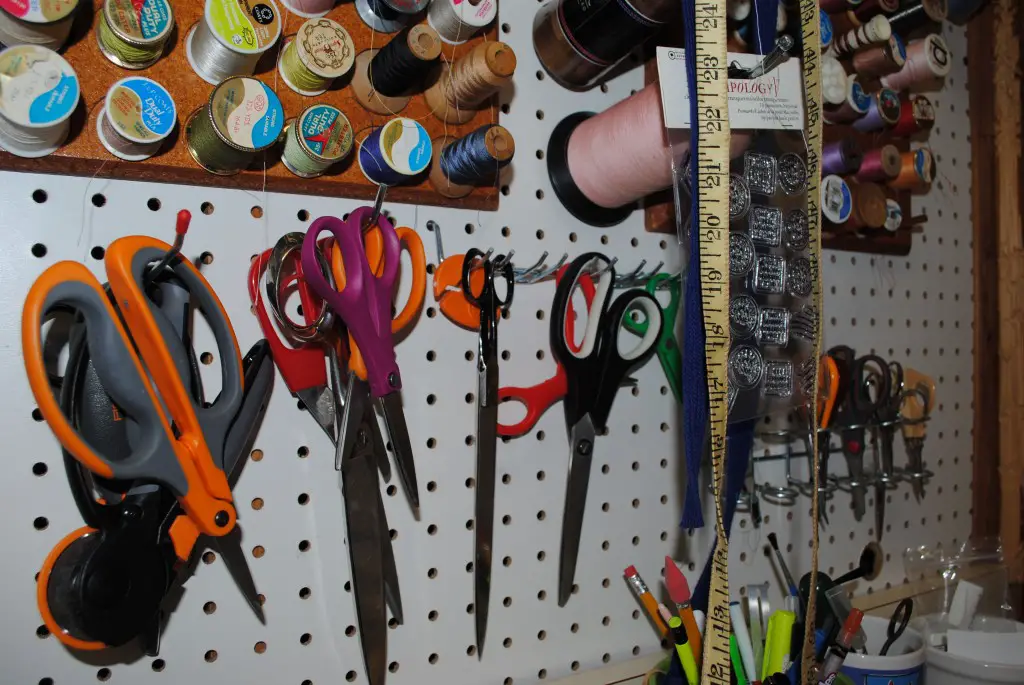 Tools and supplies are an important part of crafting.  I dabble in all kinds of medium (fabric, paper, etc.).  Most of my projects involve fabric, so I thought I would share with you the tools and supplies that I find most useful when working with needle and thread.
Good lighting.  If you can't see what you're doing, add more light to your area.
Sewing machine
Steam iron + ironing board.  I found a nice heavy, metal iron at Goodwill a few years back and it works great.  For convenience, I keep my iron in my craft space.  We use a different iron for pressing our clothes each morning.
Pressing cloth (used mostly when I'm working with fusible inter-facings like Pellon's Wonder–Under Fusible Web).
Spray-bottle of water close to my ironing station.  I use this to help get out tough wrinkles and also to dampen my pressing cloth when working with fusible inter-facings.
Reading glasses.  So I can see the eye of the needle in the sewing machine.  A great help when it comes to threading the machine!
Self-healing cutting mat
Rotary cutter
Quilt ruler (to use with the cutter and cutting mat)
Sharp scissors
Sturdy, flat, smooth work surface for cutting fabric. My cutting table is a drafting table that I found at the thrift shop for less than ten dollars.
Thread snips.  I found some at Walmart a few years back and love them.  They are much handier than scissors when it comes to snipping the ends of threads once you've pulled your work off the bed of your sewing machine.  I look for them every time I'm at Walmart and apparently they don't stock them any more.  I found a similar version on Amazon (affiliate link).  Feel free to check them out.  For less than 2 bucks you might give them a try.
Walking foot for my sewing machine.  When working with three layers of fabric, a walking foot is a fantastic tool to help keep the layers together.
A source of background music (Radio or CD Player of iTunes or Pandora).  My favorite radio station on iTunes is KDFC found in the Classical section.  Yes, I prefer Classical music.
Patience and a creative attitude.  There's no way I can be productive if I'm in a hurry or have 100 other things on my mind.  I have to go to my creative space knowing that I can spend the hour or two (or whatever) uninterrupted.  Sometimes that means getting up at 5AM on a Saturday to get things done.  In fact, I'm writing this blog post at 5:30 on Saturday morning.  There's a lot to get done today, so I'm budgeting my time wisely.
So, that's my list.
What does your list of tools look like?  Leave a comment and let me know!
P.S.  Looking for more crafty tips and tricks?  Sign up for my free newsletter and I'll send you all kinds of information that you can use!  The sign-up box is in the upper right-hand corner of my website.