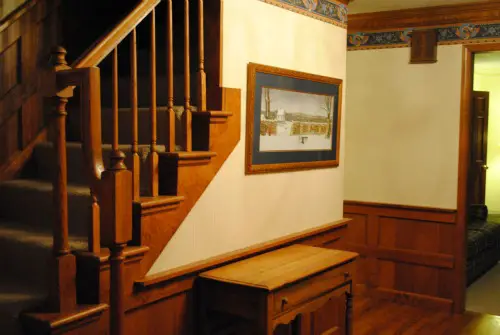 Hello Bloggers!  Happy New Year to you!
I seem to run hot and cold (mostly cold) here on the blog.  To be brutally honest with you (and myself), it's been too long since I've published a post here.  I've been busy (like the rest of you) with the holidays and I've also had a family emergency to deal with the past two weeks.
I won't go into details, but I will tell you that my uncle (my favorite uncle who is like a second father to me), is in the ICU of our local hospital.  He's making progress and I'm grateful for that.  There is power in prayer, my friends!  Always remember that.
A good deal of my free time has been spent online, tinkering with some other websites that I own.  My (self-diagnosed) attention deficit disorder has me going from one site to the next.  I've been tweaking and changing and even publishing bits and pieces along the way.
But [CraftyDad.com], my journal of crafty-ness and family-ness, has been bare.  Bare — like the carpet under our Christmas tree.  Which, by the way, is being un-decorated and packed up this weekend to spend the next several months under the stairway in the basement.*
Time passes quickly doesn't it?  Hey:  It'll be Easter in the blink of an eye.  Just wait.
I digress.  It's the ADD for sure.  🙂
So let's talk about New Year's Resolutions, shall we?  I didn't make any this year.  Instead, Chris Brogan talked me into coming up with three (3) words for 2012.  Words to live by.  Words to keep in front of me every day so I won't stray into dark places.
My three words are:  Plan.   Focus.   Follow-through.
Plan
The "plan" is to stop being so ADD-like and really figure out what I want to do in several areas of my life:  like family, career, online.  I want to be the best husband and father that I can be.  I've become a bit lazy in that area and I need to step-it-up.
Career-wise I'm not planning any moves; however, I want to continue to take steps to be a better team leader and find the best tools to keep my priorities, projects and tasks in check.  My 2012 web surfing time is where I really need to formulate a plan.
I've been jumping back and forth between running sites on crafting, self-improvement, writing, parenthood, and blogging.  I have this weakness where the 'bright and shiny' stuff gets my attention all the time.  It's more of the ADD thing.
As I think about it, it might make sense to use the CraftyDad.com site to handle all this stuff.   I love to make stuff.  I love to help lift-up people.  I really enjoy writing.  I find parenthood a pretty cool gig and enjoy blogging about it.
Focus
Keeping up with five (5) blogs is exhausting.  [Note to self:  don't do this to yourself, ever, ever again.] And they will all suffer as I try to manage them.  I'm so close to making up my mind to stick with this site and really, really do a good job here.  I've put a ton of time (years even) into the CraftyDad blog.  So…it sure seems to be the smart thing to just stay here and make it the best it can be.  Agree?
Follow-through
Time will tell.  Can I stick with it?  Can I stay away from the latest gizmo, widget or blog theme and actually FINISH some projects?  I think I can.  And I will sure appreciate your help along the way.  Comments, feedback and constructive criticism are all welcome here.  You can add a comment to a blog post, send me a message via my Contact page, or shoot an email to me.  Your help will be greatly appreciated.
Now…Let's Talk Craft!
Are you still with me?  Good deal!
Some of the neatest, most-creative, inspiring people are people you meet via the web.  Such is the case with Jim Hankins.  Jim is a paper artist and has come up with some of the coolest stuff I've seen.  I'm a big fan of Tim Holtz and I gotta tell you, Jim's projects rank right up there with Tim.  Un. Real.
Jim has taken the liberty of creating a new blog to showcase the arts and crafts of dudes, like me.  So "Men That Craft" is now an official blog.  And I'm honored that Jim has invited me to participate.  I'll spend most of my blogging energy here on CraftyDad.com, but you'll also see some articles and handmade items over at the MTC site.  I'm excited to be a part of this new community.  Be sure to stop over and join the site via Google.
Okay.  Time to get busy.
*UPDATE:  The tree (and all the other Christmas decorations) have been safely packed up and are now in the basement.  ; – )