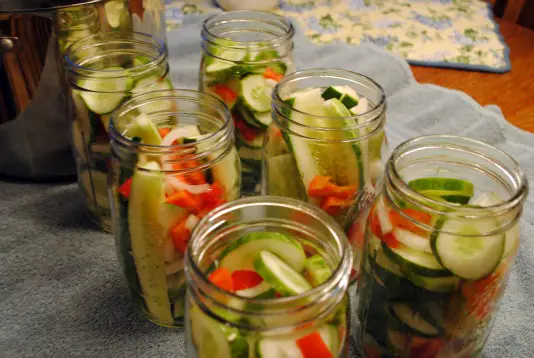 Late this summer, we made pickles for the first time.  My wife prefers bread-and-butter pickles over dill, so we made a batch of those.  The boys and I really like dill pickles…so we made several quarts of those too.
We choose to make the refrigerator variety as opposed to the true 'canning variety'.  It was an evening of fun for all of us!  We set up an assembly line operation and ended up with lots and lots of pickles.
Where did we get all the cucumbers?  From the community garden that we had this summer. It was a semi-successful venture.  I'll tell you more about it later!
These are easy-to-make so you could make some for Holiday gifts. I'm sure your foodie friends and relatives would appreciate them.  They are really, really good!
Here's the recipe for the Bread and Butter Pickles. You'll get about 4 quarts of pickles:
7 -8 cucumbers (sliced)
3 medium onions (sliced)
2 sweet red peppers (sliced)
Pack clean canning jars with cucumbers, onion and red peppers.  See photo above.
Mix together 1-1/2 cups sugar + 1-1/4 cups vinegar + 2 tablespoons salt + 1 tablespoon celery seed.
On stove, bring sugar mixture to a boil stirring until sugar is dissolved.  Let syrup cool and then pour over pickles.  Seal jars and refrigerate at least twenty-four (24) hours.
There's no need for a hot water bath.  You simply pour the liquid over the pickles, seal the jars and put them in the fridge.
Enjoy!