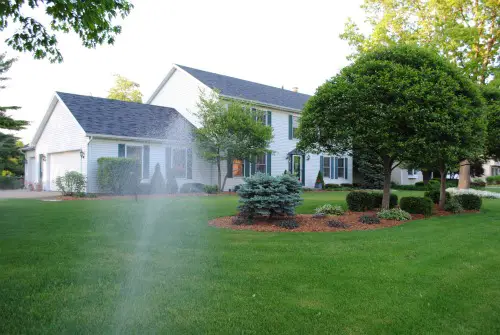 Ready for the Season
With all the rain we've had during the past several weeks, I've had no need to use the sprinklers. So…I had no need to test the sprinklers.  Until tonight.
I just got finished and ALL the sprinkler heads are working!  That is a-mazing.  There's always one or two that get busted up from the snowplow or a snow shovel that went over the driveway and into the yard.  But this year:  SUCCESS.  Everything is working just fine.
Busy Day
Let's see.  What else did I do today?
Oh yeah, I worked from 8-5, stopped at the garden and watered the plants that we set out over the weekend.  My green beans have popped through the soil (excited about that).  Tomatoes, peppers, cucumbers, squash, watermelon and zucchini all looked good.
The deer has not been through our spots lately.  Hopefully all the five-foot tomato stakes will scare him (her/them) off.
After the stop at the garden I got home and had a quick dinner.  Chicken stir-fry (thanks Honey, it was wonderful!).  Then…I made a dozen triple-berry muffins and a dozen chocolate chip muffins.
I'm taking some of each to work tomorrow to share with my team.  They turned out REALLY nice.  You should try the recipe.  It's fantastic!
It's 9:06 PM and time to get the kids settled down for bed.
Tomorrow is another busy day.  Plus a band concert in the evening.
So Thankful
It's great to be alive.  And busy.  The alternative?  Not so good.